You Were Wrong (Paperback)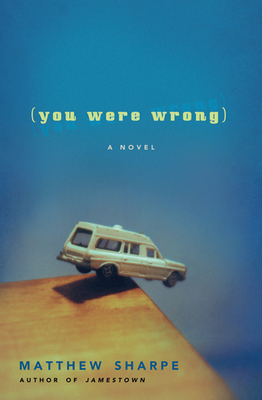 Email or call us for information about purchasing this item.
Description
---
It is 2008 in the suburban town of Seacrest, Long Island. Twenty-six-year-old high school math teacher Karl Floor has no parents, no friends, few prospects, is a dim bulb, and lives at home with Larchmont Jones, the aggressively loquacious widower of Karl's mother. One fine afternoon, Karl returns to his house after work to discover a beautiful stranger in the upstairs hallway. She is Sylvia Vetch, and claims to be robbing him. She also asks for his protection, but won't quite say from what or whom, and draws him into troubles she won't elucidate.
No Sherlock Holmes, Karl still slowly begins to see and engage the complex forces that have been shaping his life: his parentage and inheritance, morality and law, the racial and economic geography of present-day New York City and the world at large.
Darkly funny and original, "You Were Wrong" is a surreal detective story told with heart, wit, and a singular voice.
About the Author
---
Matthew Sharpe is the author of the novels Jamestown, The Sleeping Father and Nothing Is Terrible, as well as the short-story collection Stories from the Tube. He teaches creative writing at Wesleyan University. His stories and essays have appeared in Harper's Magazine, Zoetrope, BOMB, McSweeney's, American Letters & Commentary, Southwest Review, and Teachers & Writers. He lives in New York City.
Praise For…
---
"Part warped fairy tale, part nerd noir, part hallucinogenic misfit fiction, part sly social critique, Sharpe's wicked story of class and race, love and hate, is venomously funny and whiplash smart."  —Booklist
"A pleasing odd and intelligent novel…What's most winning about YOU WERE WRONG is its acumen and the brio with which [Sharpe's] sentence-making bears it out.  The book is rich with devastatingly comic observations about people, places, and things.  YOU WERE WRONG might not save your life, but never mind; Matthew Sharpe is saving prose from the banal, one word at a time."  —New York Times Book Review
"A painfully funny book … You Were Wrong is even riskier than Sharpe's previous novel, Jamestown. There, the sides were clear and the joke easier to parse. Here, Sharpe refuses to let the reader catch him winking. It's a bold move, one that pays off in many places. The novel is about the failures of men, and it's dedicated to the year 2008, a time when the rot at the root of another male-dominated institution, our economy, was finally revealed. Sharpe's novel works like those warning signs we now wished we'd noted, telling us that something essential is broken."—Publishers Weekly
"This book is strange, original, and devastatingly clever."—Mary Gaitskill
"A sharply funny, almost old-fashioned social farce with the structure of a P.G. Wodehouse comedy of errors and the bitter wit of a John Kennedy Toole — this is a sweet, oddly romantic satire for the recovering cynics among us."—Lydia Millet, Pulitzer Prize Finalist for Love in Infant Monkeys
"I think what I like most about You Were Wrong is the incredible sentences Matthew Sharpe creates. Like the story, they weave and dip and avoid and confront and contain all the horrible beauty that life is. Following the roll and tumble of words, you're never quite sure where you'll end up, but don't worry—the chaos is well controlled. You're never once out of Sharpe's capable hands."—Sharon Preiss, founder and director of Mobile Libris