Two Cents Plain: My Brooklyn Boyhood (Hardcover)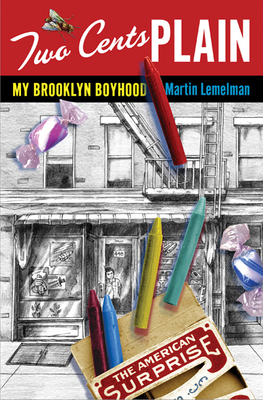 Email or call us for information about purchasing this item.
Special Order; please call or email to confirm availability
Description
---
Martin Lemelman's elegiac and bittersweet graphic memoir "Two Cents Plain" collects the memories and artifacts of the author's childhood in Brooklyn. The son of Holocaust survivors, Lemelman grew up in the back of his family's candy store in Brownsville during the 1950s and '60s, as the neighborhood, and much of the city, moved into a period of deep decline. In "Two Cents Plain," Lemelman pieces together the fragments of his past in an effort to come to terms with a childhood that was marked by struggle both in and outside of the home. But his was not a childhood wholly without its pleasures. Lemelman's Brooklyn is also the nostalgic place of egg creams and comic books, malteds and novelty toys, where the voices of Brownsville's denizens the deli man, the fish man, and the fruit man all come to vivid life. Between the lingering strains of the Holocaust and the increasing violence on the city's streets, "Two Cents Plain" reaches its dramatic climax in 1968, as Lemelman's worlds explode, forcing him and his family to re-create their lives. Through his stirring narrative and richly rendered black-and-white drawings, family photographs, and found objects, Lemelman creates a lush, layered view of a long-lost time and place, the chronicle of a family and a city in crisis. "Two Cents Plain" is a wholly unique memoir and a reading experience not soon forgotten.
About the Author
---
Martin Lemelman is the author/illustrator of Mendel's Daugher and has illustrated over 30 children's books, and his work has been published in magazines ranging from the New York Times Book Review to Sesame Street magazine. A professor in the Communication Design Department at Kutztown University, he lives in Allentown, Pennsylvania with his wife, Monica, and is the father of four sons.
Praise For…
---
"Memory comes alive in this compelling amalgam of drawing, narrative and archival photography ...Though there's an innocence to [Lemelman's] tales...this was not an idyllic childhood, nor is it rendered sentimentally... The family chronicle unfolds against the backdrop of a tumultuous era... A book that is both a celebration and an affirmation of life." —Kirkus Reviews, Best Memoirs of 2010 "Like a two-cent seltzer water, this graphic memoir is an unassuming treat, whether sipped a story at a time, or quaffed in one satisfying sitting" —A.V. Club "This is literary territory familiar to fans of Mordecai Richler and Saul Bellow; what Lemelman brings to it is artistry featuring a fine eye for detail, penmanship nuanced but never watery, and a stylistic fearlessness that can stuff pop art tropes, photography, and naturalism onto the same page." —Boston Globe "Two Cents Plain takes the cutting edge form of a graphic novel, but it's a classic coming of age story set in Brooklyn in the 1950s and '60s. Lemelman's detailed pencil drawings, sprinkled with Yiddish sayings and dialogue capturing the colorful, broken English of his immigrant parents, tell the story of his hard-working parents fleeing the Holocaust after WWII and setting up shop in Teddy's Candy Store, selling ice cream, cigarettes, sodas, egg creams, newspapers, and toys."—San Francisco Book Review  "[A] rich graphic memoir... Through Lemelman's strong narrative voice and spare images, Two Cents Plain is a haunting and unforgettable black and white encounter with the past." —Jewish Book World "Lemelman captures the challenges, tastes, and smells of a particularly nostalgic time and place for many immigrants through is compelling illustrations. Two Cents Plain offers a firsthand account of the first generation American's experience as the structure of the 1950s evolved into the freeform 1960s." —Miami New Times "[A] rich sketch- and scrap-book of sorts – a compelling compendium of expressively-rendered anecdotes and black-and-white drawings, documents, photos, and artifacts... The storyline of Two Cents Plain, all wit and woe, is variously made up of piecemeal fragments and extended sweeps. As much as we come to know friends and local denizens – the fish man, the fruit man, the deli man – increasing strains of changing times, demographics, and violence...are vividly portrayed, too."—Gordon Hauptfleisch, Blogcritics.org "Amazing…Author Martin Lemelman mixes nostalgia and realism, bringing in period touches such as drawings of vintage toys and candy but never shying away from the grittier details such as his parents' anger, their poverty and the rats that swarmed through their apartment." —Comic Book Resources.com, Top 100 Comics of 2010