Burma Superstar: Addictive Recipes from the Crossroads of Southeast Asia [A Cookbook] (Hardcover)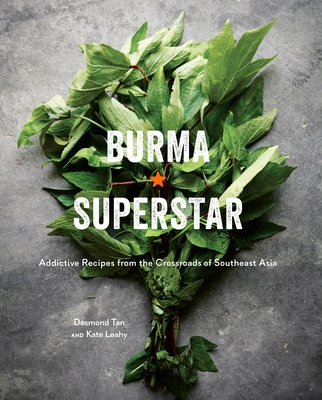 $29.99

Not In Store / Available To Order (allow for shipping time to bookstore or direct-to-home)
Description
---
From the beloved San Francisco restaurant, a mouthwatering collection of recipes, including Fiery Tofu, Garlic Noodles, the legendary Tea Leaf Salad, and many more. Never before have the vivid flavors of Burmese cooking been so achievable for home cooks.
Known for its bustling tables, the sizzle of onions and garlic in the wok, and a wait time so legendary that customers start to line up before the doors even open—Burma Superstar is a Bay Area institution, offering diners a taste of the addictively savory and spiced food of Myanmar. With influences from neighboring India and China, as well as Thailand and Laos, Burmese food is a unique blend of flavors, and Burma Superstar includes such stand-out dishes as the iconic Tea Leaf Salad, Chili Lamb, Pork and Pumpkin Stew, Platha (a buttery layered flatbread), Spicy Eggplant, and Mohinga, a fish noodle soup that is arguably Myanmar's national dish.
Each of these nearly 90 recipes has been streamlined for home cooks of all experience levels, and without the need for special equipment or long lists of hard-to-find ingredients. Stunningly photographed, and peppered with essays about the country and its food, this inside look at the world of Burma Superstar presents a seductive glimpse of this jewel of Southeast Asia.
About the Author
---
DESMOND TAN was born in Burma and came to San Francisco when he
was 12 years old. He has grown Burma Superstar into four thriving, unique
locations (with a fifth on the way). In 2014, he launched Mya Foods, the first Bay
Area company to import Burmese ingredients--most notably laphet, Burma's
famous fermented tea leaves.

KATE LEAHY co-authored A16 Food + Wine, the IACP Cookbook of the Year and recipient of the IACP Julia Child First Book Award; SPQR; The Preservation Kitchen, which Eater.com ranked as one of the most notable books of the year; and Cookie Love.

Praise For…
---
"Finally! In this beautiful book, Desmond Tan and Kate Leahy bring one of my favorite Bay Area restaurants, Burma Superstar, to the world. From the Tea Leaf Salad to Chicken Coconut Curry, the book demystifies the ingredients and cooking techniques of Myanmar, opening up the restaurant's incredible flavors for everyone to enjoy. This is a book to read from cover to cover, and to cook from forever."
—Amanda Haas, author of The Anti-Inflammation Cookbook: The Delicious Way to Reduce Inflammation and Stay Healthy

"Informative recipes and concise historical background set an educational yet approachable tone, while the occasional misty mountain vistas or bustling Burmese city street scenes (captured by John Lee) provide a reason to slow down and consider Burmese culture as a whole. Already, I'm eyeing the classic mohinga, a noodle soup thickened with toasted ground rice and mashed catfish, seasoned with ginger and lemongrass."
—Alex Testere, Saveur

"The rare restaurant edition you'll actually want to cook from, starting with the tea-leaf salad."
—"This Season's Best Cookbooks", Bon Appetit

"The eponymous San Francisco restaurant is making quality Burmese food even more accessible than before with this insightful, thorough cookbook. Take mohinga, for example, the breakfast noodle soup you've probably never heard of that's considered Burma's national dish. And in between coconut chicken curry and tea leaf salad, you can read all about Myanmar's struggle for democracy, as well as the people and ingredients that make up this rich culture."
—"Best New Cookbooks," Tasting Table

"Is Burmese the new Thai food? Plenty of San Franciscans (disciples of the city's beloved Burma Superstar restaurant) would say yes. The hot spot's first cookbook illuminates the spicy, savory food of Myanmar, from chili lamb to pork and pumpkin stew to the popular tea leaf salad."
 —Rebecca Shapiro, PureWow

"Burmese food is highly underrated—especially where fighting inflammation is concerned, thanks to the generous use of spices like turmeric and cardamom. In his book, Tan reveals that the meals include ingredients that are beautifully colored and textured, meaning that even salad can be exciting. "
 —Felicia Czochanski, Well + Good 

"Despite what some may consider unfamiliar ingredients and cooking techniques, "Burma Superstar" (the book) is incredibly accessible and, more importantly, fun. Fans of the restaurant will be happy to see a some of its most popular dishes, but the cookbook is more than just a rehashing of the menu. [...] There are short snippets on the history, political and otherwise, of the country, and photographs, all by San Francisco's John Lee, bring the food into context with the country." 
 —Kate Williams, Berkeleyside