50 Beautiful Deer-Resistant Plants: The Prettiest Annuals, Perennials, Bulbs, and Shrubs that Deer Don't Eat (Paperback)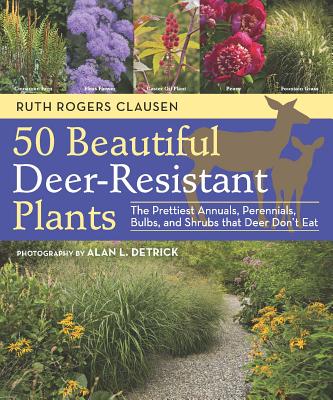 $22.99

Not In Store / Available To Order (allow for shipping time to bookstore or direct-to-home)
Description
---
"Take Clausen's tips, and you just might convince the deer to eat at a restaurant down the street." —Good House Keeping

Are deer destroying your garden? There is a solution, and it doesn't involve fencing, barriers, or chemicals. Keeping your garden safe from deer is as simple as choosing the right plants. In 50 Beautiful Deer-Resistant Plants, perennial plant expert Ruth Rogers Clausen highlights the best, most versatile plants that deer simply don't eat. The plant choices include annuals and perennials, shrubs, bulbs, grasses, and herbs. For each suggested plant, Clausen shares helpful growing and design tips. This practical, authoritative, full-color guide is a must-have solution to a common garden problem. 
 
About the Author
---
Ruth Rogers Clausen is the author of 
50 Beautiful Deer-Resistant Plants
, and co-author of 
Essential Perennials
 and 
The Proven Winners Garden Book
. She received a Quill and Trowel award from the Garden Writers Association (now Garden Communicators International) and has written for the American Garden Guides series. She is the former horticulture editor for 
Country Living Garden
 magazine and a long-time contributor to Country Gardens magazine. Ruth lectures widely at horticultural conventions and symposia, flower shows, and to garden societies and clubs. In 2017, she was awarded the Garden Media Award by the Perennial Plant Association.
Alan L. Detrick is a professional photographer whose images of nature and gardens appear in media worldwide. He has lectured and conducted photography workshops at Maine Media Workshops, The New York Botanical Garden, Chanticleer Garden, Brookside Gardens, and Longwood Gardens, as well as for the the American Horticultural Society, the Garden Club of America, and the Garden Writers Association, where he was elected into the Hall of Fame in 2010. He is the author of Macro Photography for Gardeners and Nature Lovers.
Praise For…
---
"This visually appealing, practical, authoritative book is highly recommended for gardeners in deer country who would like to have a beautiful garden without fencing as their only solution." —Library Journal starred review

"Take her tips, and you just might convince the deer to eat at a restaurant down the street." —Good House Keeping

"Even apart from its gorgeous photography, which will make you want to eat the plants, the book has much to offer." —Fresh Dirt Blog

"An exceedingly helpful resource, expertly researched and written by the respected writer Ruth Rogers Clausen." —Garden Rant

"Using Clausen's hand-picked varieties, it would be hard to fail at creating a cohesively designed deer-resistant garden that is a pleasure to spend time in." —Christian Science Monitor

"As an experienced plantswoman, Ruth Rogers Clausen understands the balance between keeping deer out of gardens and fencing gardeners in." —The Denver Post

"Ruth Rogers Clausen's book 50 Beautiful Deer Resistant Plants is simply the best book I have read on this subject." —Open-Line Gardening Show Four Star Review

"Finally here's a wise, inspiring, and easy-to-use resource for landowners and gardeners who are fortunate enough to love in deer country. . . . a gardener who follows Clausen's advice can create stress-reducing gardens that give year-round pleasure." —Virginia Wildlife Magazine

"Ruth Rogers Clausen's Timber Press book, 50 Beautiful Deer-Resistant Plants, offers gardeners a great way to landscape without concern for deer damage." —Virginian-Pilot

"I loved all the great suggestions in this book. Clausen includes plants for all landscape areas and the selections provide for varied and interesting plantings." —East Oregonian

"Overall, I'd highly recommend this book to all deer-plagued gardeners, from those who are just beginning to those who are advanced. Anyone tired of the never-ending battle with the deer needs to have this book by their side!" —GossipintheGarden.com

"Ruth Clausen is one of the best-known names in garden writing, and a trusted source for the most in-depth and reliable information." —Real Dirt Radio