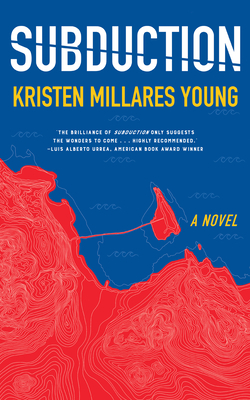 Description
---
*Finalist for two International Latino Book Awards*
*Selected as a Staff Pick by The Paris Review*
*Longlisted for the VCU Cabell First Novelist Award*
*Finalist for the Foreword Indies Book of the Year Award (Multicultural)*
*SILVER MEDAL winner in the Independent Publisher Book Awards in Multicultural Fiction*
PRAISE FOR SUBDUCTION:
"Subduction is a gritty novel in which floundering people find hope and understanding where they least expect it."
--Foreword Reviews
The brilliance of
Subduction
only suggests the wonders to come. It is a good day for us when Kristen Millares Young puts pen to paper. Highly recommended.
--Luis Alberto Urrea, winner of the American Book Award, finalist for the Pulitzer Prize, author of The House of Broken Angels, The Devil's Highway, Queen of America, Into the Beautiful North, The Hummingbird's Daughter.
In this commanding novel
,
Kristen Millares Young captures the brutality of an anthropological gaze upon a Makah community. Her complex, exquisitely shaped characters embody the calamity of intrusion and the beauty of resilience.
--Elissa Washuta, author of My Body is a Book of Rules and Starvation Mode
Young beautifully and vividly renders the Pacific Northwest, particularly the unique world of Neah Bay.
Subduction
is at once a thought-provoking meditation on the geography and geology of the natural world and a generous exploration of the natural shifts and movements that shape her characters.
--Jonathan Evison, New York Times bestselling author, Lawn Boy, This is Your Life Harriet Chance , West of Here, All About Lulu, and The Revised Fundamentals of Caregiving
Fleeing the shattered remains of her marriage and treachery by her sister, a Latina anthropologist named Claudia takes refuge in Neah Bay, a Native whaling village on the jagged Pacific coast. Claudia yearns to lose herself to the songs of the tribe and the secrets of a spirited hoarder named Maggie. Instead, she stumbles into Maggie's prodigal son Peter, who, spurred by his mother's failing memory, has returned seeking answers to his father's murder. Claudia helps Peter's family convey a legacy delayed for decades by that death, but her presence, echoing centuries of fraught contact with indigenous peoples, brings lasting change and real damage. Through the ardent collision of Peter and Claudia,
Subduction
portrays not only their strange allegiance after grievous losses but also their shared hope of finding solace and community on the Makah Indian Reservation. An intimate tale of stunning betrayals,