This One Summer (Paperback)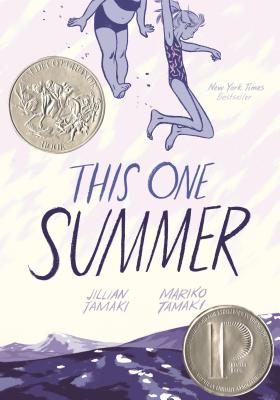 $18.99

Available In Store Now (while supplies last)
Description
---
A New York Times bestseller
A 2015 Caldecott Honor Book
A 2015 Michael L. Printz Honor Book
An Eisner Award Winner

Every summer, Rose goes with her mom and dad to a lake house in Awago Beach. It's their getaway, their refuge. Rosie's friend Windy is always there, too, like the little sister she never had. But this summer is different. Rose's mom and dad won't stop fighting, and when Rose and Windy seek a distraction from the drama, they find themselves with a whole new set of problems. One of the local teens - just a couple of years older than Rose and Windy - is caught up in something bad... Something life threatening.

It's a summer of secrets, and sorrow, and growing up, and it's a good thing Rose and Windy have each other.

This One Summer is a tremendously exciting new teen graphic novel from two creators with true literary clout. Cousins Mariko and Jillian Tamaki, the team behind Skim, have collaborated on this gorgeous, heartbreaking, and ultimately hopeful story about a girl on the cusp of childhood - a story of renewal and revelation.

This title has Common Core connections.
About the Author
---
Jillian Tamaki is an illustrator and comics artist. She is the co-creator of Skim and This One Summer, and the author of SuperMutant Magic Academy and Boundless (2017). She has taught comics and illustration in New York City at SVA and The New School. She lives in Toronto.

Mariko Tamaki is a New York Times bestselling Canadian writer of comics and prose. She is the co-creator of This One Summer, with Jillian Tamaki, and Laura Dean Keeps Breaking Up With Me, with Rosemary Valero-O'Connell, both of which received Eisner Awards and Printz Honors. She also writes superhero stories Marvel and DC Comics. Mariko lives in Oakland.
Praise For…
---
"*This book is poignant and melancholy, and it will be swiftly recognizable to those who only recently hovered at the cusp of adolesence." —BCCB, STARRED REVIEW

"*This captivating graphic novel presents a fully realized picture of a particular time in a young girl's life, an in-between summer filled with yearning and a sense of ephemerality." —School Library Journal, STARRED REVIEW


"*A summer of family drama, secrets and change in a small beach town . . . Keenly observed and gorgeously illustrated - a triumph." —Kirkus Reviews, STARRED REVIEW

"*With a light touch, the Tamakis capture the struggle of growing up in a patchwork of summer moments . . . Wistful, touching, and perfectly bittersweet." —Booklist, STARRED REVIEW

"If I worked at a bookstore, I'd be hand-selling it to customers who adored Raina Telgemeier's graphic memoir Smile but are now ready for more complex themes...This is a lovely book." —The New York Times

"[This One Summer] manages to evoke the nuances, the confusions, of a pair of characters on the cusp." —Los Angeles Times

"Mariko's strengths as awriter lie in her subtlety and her ability to convey whole worlds of feelingwithin a few lines of dialogue." —National Post

"I loved it." —Craig Thompson

"Jillian's art is simply gorgeous, and the perfect companion to the beautiful—and sometimes painful—truth behind Mariko's every word." —Stephanie Perkins

"This One Summer is so vivid and beautifully told, that I saw, heard, and felt every moment. This tender and oh-so-true story of one girl's pivotal summer is a stand-out." —Deb Caletti

"A rare treasure of a book, like a summer caught and pressed between the pages." —Svetlana Chmakova

"I read this in July, and spent the rest of the summer thinking about it. Every bike on a dusty road and gleefully swimming kid made me think about this book, and how it so eloquently and perfectly captures the feeling of summer-- slow, lazy and somehow hectic and astounding and full-- that we spend every year after the age of 18 trying to remember. " —Lucy Knisley

"This One Summer is a precisely written, exquisitely illustrated exploration of the moment when childhood tips over into adolescence. For the second time the Tamakis have raised the bar for young adult comics." —Hope Larson

"The most beautiful thing I've ever seen." —Faith Erin Hicks

"This One Summer is a beautiful, relatable story of that summer everyone has had, where things happen around you but nothing happens to you." —Julie Halpern

"Read this and remember that time. Read this and feel the innocence and the intimate, wrestling out at the beach. Read this and keep it like a secret, or let it run wild like a bonfire night. Read this for the joy and the grit, the tears and the sunburn, what you can't remember and what you'll never forget. Read This One Summer and swear you were there." —Daniel Handler