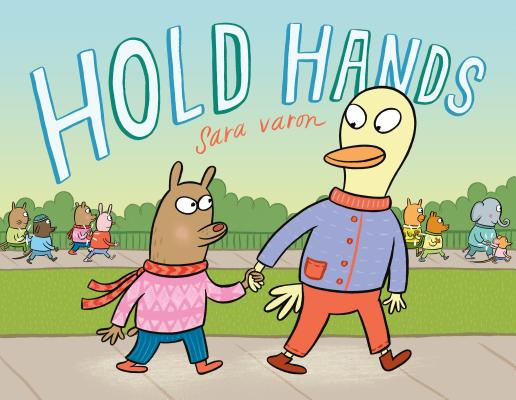 Description
---
NYT Book Review 2019 25 Best Children's Books


In Hold Hands, beloved graphic novelist and children's book author Sara Varon offers a sweet rhyming story for toddlers about friendship and connection.

Hold hands each time you cross the street.
Hold hands on the bus if you don't have a seat.
Hold hands when you say goodbye.
And also when you're jumping high.

Everybody holds hands. You can hold hands with your little brother or your best friend. You can hold hands with your classmate or even your favorite doll! Gather up your little ones, hold their hands, and share this heartwarming book.
About the Author
---
Sara Varon is a printmaker, graphic novelist, and children's book author/illustrator living in Brooklyn. Her books include Odd Duck, Bake Sale, Robot Dreams, Chicken & Cat, Chicken & Cat Clean Up, Hold Hands, and My Pencil & Me. Her books have received many accolades--among others, Odd Duck was selected by Kirkus Reviews as one of the Best Children's Books of 2013, Bake Sale was named a YALSA Great Graphic Novel for 2012, and Robot Dreams was on Oprah's Kids' Reading List in 2008. In 2013 Sara Varon was a recipient of the Maurice Sendak Fellowship.
Praise For…
---
"Varon's singular visual style—bright, friendly, and completely zany—and her deft, economical writing style make this simple ode to holding hands burst with originality and charm." —New York Times

"In Varon's world, even the sun and the moon hold hands. Seemingly effortless verse...makes this the kind of readaloud that could find a place among favorites." —Publisher's Weekly

"With gentle guidance, young readers will pick up on the broader message that hand-holding...embodies strong emotional connection, bonding, and inclusion. [This] concept is well-depicted in the colorful, cartoony illustrations of the smiling, bearlike protagonists and their fellow community members, who represent various animal species, colors, sizes, and shapes."—Kirkus

"This is sure to be a day-care winner, and even youngsters petulantly asserting their independence may be reminded that it's really quite nice to hold somebody's hand."—The Bulletin of the Center for Children's Books

"Various animal (and other) characters, rendered in Varon's singular offbeat style, show readers how hand-holding can provide comfort." —Horn Book

"This warmhearted book will hold up over many readings, and is a must purchase for ­libraries serving younger patrons." —School Library Journal

"Award-winning graphic novelist and picture-book artist Varon uses her trademark stylings and anthropomorphic animals to create a gorgeous and precious picture book about a simple but crucial element of learned childhood behavior." —Booklist