My Snake Blake (Hardcover)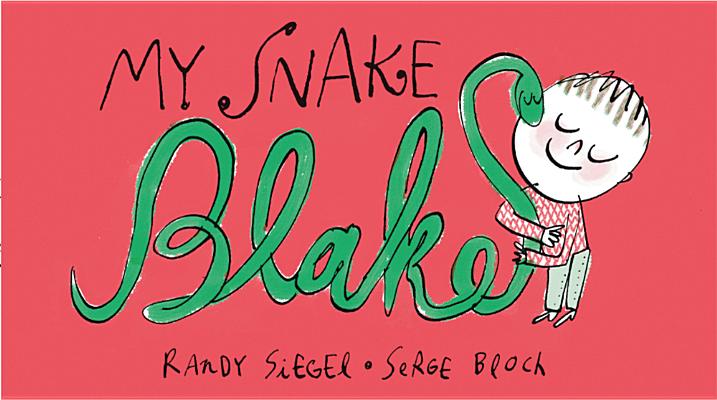 $16.99
Available at our distributor; usually ships in 1-5 days
Description
---
What's green, and slithery, and smooth, and ...smart? My snake Blake, that's who When my dad brought him home, he curved and twisted his body and spelled out "hello."
And when my mom was worried he might bite, his response was "relax."
This hilarious story about the friendship between a boy and his rather exceptional pet is brought to life by the simple yet delightful drawings of award-winning artist Serge Bloch.
About the Author
---
Randy Siegel is the author of Grandma's Smile for Roaring Brook Press, which Publisher'sWeekly called, "a wry and contemporary reality check on the going-to-Grandma's genre." Siegel has written for newspapers and magazines around the country and works for Advance Publications in New York City.Serge Bloch is a Society of Illustrators Gold Medal winner and the recipient of France's Baobab Award. He illustrated Susie Morgenstern's A Book of Coupons, named an ALA Batchelder Honor Book, and has written and illustrated numerous books for children and young adults. He lives in Paris.
Praise For…
---
"Blake the snake just might be the most spectacular pet of all time."--Kirkus, starred "…a loving salute to the unconventional pet heroes of an earlier era…"--Publishers Weekly "Apart from its title, 'My Snake Blake' isn't creepy at all. Blake the snake is a little boy's perfect friend right out of the birthday-present box….The illustrator, Serge Bloch, has taken Randy Siegel's silly, slim text and served it up as a dish straight out of 1960….He draws in the loose, bamboo –pen scribble that thrived in those days. Channeling artists like Saul Steinberg, Robert C. Osborn and Jules Feiffer, he gets the wry, relaxed humor just right. His boy is adorable, as is his snake."--The New York Times   "Blake is a very lovely shade of green, but his best virtue is that he can write! He uses his body to form words which comes in very handy for things like communication and homework help. Just be careful; children get wonderful ideas from books and yours just might ask for a pet snake."--Kiwi Magazine "Engaging."--BCCB "…charming…"--Booklist 
"Serge Bloch's marvelously economical drawings sustain a feeling of high good humor throughout this appropriately long-and-narrow picture book for 3- to 8-year-olds."--The Wall Street Journal