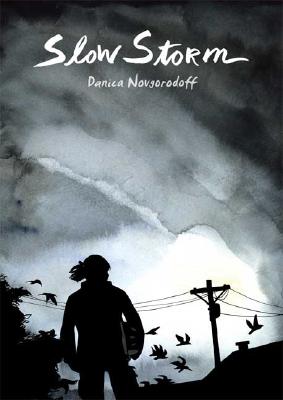 $17.95
Email or call for price.
Description
---
A firefighter in rural Kentucky, Ursa searches for her place in life, struggling to meet her own expectations. When a tornado hits her town, the ensuing chaos brings her world into sharp focus, somehow making everything clearer, and Ursa finds that she just can't stomach the way her life is going. It is then that she meets Rafi, an illegal immigrant whose life isn't going the way he'd pictured it either. Their encounter is the catalyst for Ursa and Rafi, who take different roads to the realization that wanting your life to change isn't enough to make it happen.
Slow Storm stands apart as a graphic novel with its literary heart and charged, atmospheric watercolor and ink artwork. The storm builds around the characters and inside them, and moments of violence and tenderness suddenly crack like lightning. With Slow Storm, Danica Novgorodoff takes her place as a talent to be reckoned with in the literary world.
About the Author
---
Originally from Louisville, Kentucky, Danica Novgorodoff is a writer, painter, photographer, and comics artist who now lives in New York City where she works as a graphic designer for First Second Books. She has also worked as a horse trainer in Virginia, an assistant to photographer Sally Mann, and an artist review writer for galleries in Chelsea and SoHo. In 2006 she won the Isotope Award for her mini-comic, "A Late Freeze," which was later nominated for an Eisner award.