Fisherman's Blues: A West African Community at Sea (Paperback)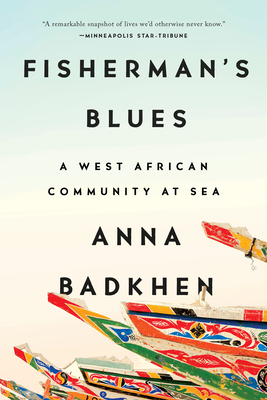 $16.00
Email orders@greenlightbookstore.com for information about this item.
Description
---
NAMED A BEST BOOK OF THE YEAR BY THE CHRISTIAN SCIENCE MONITOR AND PASTE MAGAZINE

An intimate account of life in a West African fishing village, tugged by currents ancient and modern, and dependent on an ocean that is being radically transformed.

The sea is broken, fishermen say. The sea is empty. The genii have taken the fish elsewhere.

For centuries, fishermen have launched their pirogues from the Senegalese port of Joal, where the fish used to be so plentiful a man could dip his hand into the grey-green ocean and pull one out as big as his thigh. But in an Atlantic decimated by overfishing and climate change, the fish are harder and harder to find.

Here, Badkhen discovers, all boundaries are permeable--between land and sea, between myth and truth, even between storyteller and story. Fisherman's Blues immerses us in a community navigating a time of unprecedented environmental, economic, and cultural upheaval with resilience, ingenuity, and wonder.
About the Author
---
Anna Badkhen has spent most of her life in the Global South. Her immersive investigations of the world's iniquities have yielded six books of literary nonfiction, most recently Fisherman's Blues. She has written about a dozen wars on three continents, and her essays and dispatches appear in periodicals and literary magazines such as the New York Review of Books, Granta, The Common, Guernica and the New York Times. Her awards include the Guggenheim Fellowship, the Barry Lopez Visiting Writer in Ethics and Community Fellowship, and the Joel R. Seldin Award from Psychologists for Social Responsibility for writing about civilians in war zones.
Praise For…
---
"Fisherman's Blues is a colorful and affecting portrait of an entire way of life, but it's also a report from the front lines of a small industry in the twilight of a struggle it never thought it would even face, much less lose…There isn't any realistic light at the end of the story Badkhen tells. But readers can still be grateful for this graceful, perceptive account." -Christian Science Monitor

"A profound account of a single community—its primary industries, religious beliefs, and rhythms….[it] unfolds like a novel, featuring well-drawn and sympathetic characters, and show[s] how thoroughly the implications of environmental disaster seep into everyday life." -The New Republic

"No polemical treatise, Badkhen's Fisherman's Blues offers a critical take through subtle and beautiful methods of storytelling. It creates a remarkable snapshot of lives we'd otherwise never know...Developing trust with subjects and truthfully rendering their life stories with great elegance, [Badkhen] achieves a level of poetic political action." -Minneapolis Star-Tribune

"In elegiac vignettes, Badkhen portrays the trick and snare of a heroic and punishing profession…Her poetic style liberates the reader from the familiar, straightforward quality of traditional reportage, but her work remains equally honest and arguably more compassionate….Fisherman's Blues is Badkhen's ode to a community's fraught ties to geography, and a gentle lament for an existence eroding at the shoreline." -Dallas Morning News

"A conventional account of life in Joal would be fascinating reading in and of itself—a crucial snapshot of an endangered lifestyle. What Badkhen has written instead is something more like a ghost, an incantation, a life captured in words. In powerful language shaped by the winds and tides, Badkhen not only describes the fishers' lives but also imbues them with an energy that borders on the uncanny." -Paste Magazine

"A intimate, urgent, and compassionate narrative about how human and natural landscapes are being interrupted by the Anthropocene." -LitHub
 
"Evocative [and] hauntingly beautiful...a moving tribute to a traditional way of life facing enormous change." -Publisher's Weekly (starred)

"Badkhen is a spellbinding writer, her observations at once hypnotic and elegiac, witnessing a fragile community just barely getting by." -Booklist

"Lyrical, precise, and lucent...a highly absorbing chronicle of a transcendent journey." 
-Kirkus Reviews

"Badkhen's keen observation and participatory research results in a book that gives readers a glimpse into what will be lost."  -Library Journal

"This book is the story of a community full of love and strife and humor. Their way of life is an ode to humanity, and I'm so glad Anna Badkhen, one of the most creative and important nonfiction writers in our era, has allowed us to know them." -James McBride, author of The Good Lord Bird

"Badkhen shares the rough and rich daily life of the masters of the Atlantic, and with piercing gaze and a style as passionate as it is precise reveals the secret dignity of their most ordinary gestures." –Boubacar Boris Diop, author of Murambi, The Book of Bones

"A work of quiet genius. Badkhen has an uncanny ability to address some of the most complex of modern human problems — food shortages, human ambition, family relations—while, at the same time, conveying the spiritual awareness and binding allegiance and love that characterize an enduring community of fishing families on the coast of Senegal. Her keenly observed descriptions of the sea are startling and gorgeous, and her patient consideration of what matters most in human life is unexpectedly hopeful." -Barry Lopez

"A masterpiece. Badkhen makes the natural world immediate, vivid, vital--sacred. She digs down into the truth of human experience on the planet at this time, and the book resonates with all our time on the planet." -Ben Fountain, author of Billy Lynn's Long Halftime Walk

"A gorgeous and timely reintroduction to the world of my upbringing--a world too often ignored, yet whose contribution to tomorrow's global civilization could be priceless."--Pierre Thiam, Senegalese chef and author