City of Girls: A Novel (Hardcover)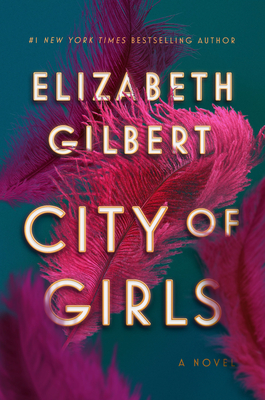 $28.00

Not In Store / Available To Order (allow for shipping time to bookstore or direct-to-home)
Staff Reviews
---
In City of Girls, you'll meet the venerable Vivian, who didn't exactly start out as such. This is the tale of a 19 year old girl, lost and made in the New York City of the 1940s. Now knocking on her 90s, Vivian takes us (and Angela, her mysterious something) down memory lane, through the follies of youth and into a safe place of redemption and resolution. Gilbert possesses a wealth of wisdom and talent that has yet to run dry, and lends that overflow to her intoxicating characters.
— Ikwo
June 2019 Indie Next List
---
"City of Girls is a champagne cocktail, a tonic for anything that ails you, and the summer read you can't miss! Vivian Morris, an upper-class, 19-year-old college dropout, finds herself in the chaotic New York City theater world of the 1940s. What ensues is a story full of sex, glamour, and witty one-liners that spans decades. All those who led a heedless youth or wish they had will fall for this book about growing into the person you've always wanted to be. Gilbert has written a glittering piece of fiction that subtly delivers wisdom about the nature of human connection and leaves the reader braver, freer, and, at least for the moment, happier."
— Caroline McGregor, Books & Books, Coral Gables, FL
Description
---
AN INSTANT NEW YORK TIMES BESTSELLER!

From the # 1 New York Times bestselling author of Eat Pray Love and The Signature of All Things, a delicious novel of glamour, sex, and adventure, about a young woman discovering that you don't have to be a good girl to be a good person.

"A spellbinding novel about love, freedom, and finding your own happiness." - PopSugar

"Intimate and richly sensual, razzle-dazzle with a hint of danger." -USA Today

"Pairs well with a cocktail...or two." -TheSkimm

"Life is both fleeting and dangerous, and there is no point in denying yourself pleasure, or being anything other than what you are."

Beloved author Elizabeth Gilbert returns to fiction with a unique love story set in the New York City theater world during the 1940s. Told from the perspective of an older woman as she looks back on her youth with both pleasure and regret (but mostly pleasure), City of Girls explores themes of female sexuality and promiscuity, as well as the idiosyncrasies of true love.

In 1940, nineteen-year-old Vivian Morris has just been kicked out of Vassar College, owing to her lackluster freshman-year performance. Her affluent parents send her to Manhattan to live with her Aunt Peg, who owns a flamboyant, crumbling midtown theater called the Lily Playhouse. There Vivian is introduced to an entire cosmos of unconventional and charismatic characters, from the fun-chasing showgirls to a sexy male actor, a grand-dame actress, a lady-killer writer, and no-nonsense stage manager. But when Vivian makes a personal mistake that results in professional scandal, it turns her new world upside down in ways that it will take her years to fully understand. Ultimately, though, it leads her to a new understanding of the kind of life she craves - and the kind of freedom it takes to pursue it. It will also lead to the love of her life, a love that stands out from all the rest.

Now eighty-nine years old and telling her story at last, Vivian recalls how the events of those years altered the course of her life - and the gusto and autonomy with which she approached it. "At some point in a woman's life, she just gets tired of being ashamed all the time," she muses. "After that, she is free to become whoever she truly is." Written with a powerful wisdom about human desire and connection, City of Girls is a love story like no other.
About the Author
---
Elizabeth Gilbert is the #1 New York Times bestselling author of the novels City of Girls, Signature of All Things, Stern Men; the story collection Pilgrims; and the nonfiction books Big Magic, Eat Pray Love, Committed, and The Last American Man. A finalist for the National Book Award, the National Book Critics Circle Award, and the PEN/Hemingway Award, Gilbert began her career as a journalist. She divides her time between New York City, rural New Jersey, and everywhere else.
Praise For…
---
Praise for City of Girls:

"A novel as vibrant, sexy and wise as the author's megahit Eat Pray Love." – People Magazine

"The girls and women of the book don't simply endure: they thrive, they dance, they live. Grab some champagne and toast…" – OprahMag.com

"Gilbert's new novel… is a pitch-perfect evocation of the era's tawdry glamour and a coming-of-age story whose fizzy surface conceals unexpected gradations of feeling." –New York Times Book Review (Editor's Choice)
 
"Gilbert stays true to her pledge that she won't let her protagonist's sexuality be her downfall, like so many literary heroines before her. That may be the most radical thing about a novel that otherwise revels in the old-fashioned pleasures of storytelling — the right to fall down rabbit holes, and still find your own wonderland." – EntertainmentWeekly.com
 
"A breezy, entertaining read — and really, something better: a lively, effervescent, and sexy portrait of a woman living in a golden time… Passion, Gilbert never tires of informing us, that's the stuff of life. Not money, not the Darwinian struggle for survival, certainly not the family you are born with — passion is our raison d'etre. It's what makes us feel we are rocketing through the streets of New York City during the best days of our lives." – NPR
 
"Her story is rich with memorable characters… the larger-than-life leading lady… the alluring leading man—and a vibrant setting… Gilbert's expert world-building, flawless dialogue, and attention to detail places you right in the middle of the action." – Buzzfeed News

"The lush prose and firm belief in love that suffuses City of Girls will be a cool place to hide out as we enter a heated summer season of contentious presidential politics."—San Francisco Chronicle
 
"With all the conversations about sexual consent, it's risen up around the #MeToo movement… This author doesn't want us to forget there's also such a thing as female desire, the main character wants to have sex and she's not shy about hunting for it." – Whoopi Goldberg, The View 'Ladies Get Lit Summer Reads 2019'

"Glittering, hot, funny, and drenched in pleasure… Elizabeth Gilbert is one of the most dazzling and luminous writers of our generation. She invites us to challenge the rules, hunt down adventure, and bear hug the highs and lows of life." – Marie Forleo, MarieTV
 
"A moving novel about one woman's coming-of-empowerment… Gilbert wrote the kind of big-hearted historical novel you'll burn through in a weekend, then pass on to a friend." – Refinery 29
 
"[Elizabeth Gilbert's] witty dialogue sparkles like diamonds in champagne." – The Washington Post
 
"Of course, one could — and many will — read it on the beach, but consider instead staying up late to turn pages after midnight, next to an open window on a hot summer night, fireworks flaring in the distance. That experience would mirror this novel's story and its style: intimate and richly sensual, razzle-dazzle with a hint of danger." – USA Today
 
"A light, fizzy summer cocktail with a strikingly complex finish… Gilbert's book is as deliciously refreshing as a fizzy summer drink, but truly, in its second half, it's also more like fine wine, thoughtfully crafted to be savored for its benefits." – The Boston Globe
 
"The perfect summer read." – Hello Giggles
 
"A glamorous, sexy novel." – PopSugar
 
"Packed with showgirls, playboys, and sex—lots of it…being a 'good girl' isn't all it's cracked up to be." – InStyle
 
"…pure, unadulterated entertainment." – The Daily Beast

"The descriptions... of outfits, of drinks, of faces—are delicious, and the smart, snappy dialogue races along like a screwball movie." – The Seattle Times
 
"Fiercely feminist, as well as jam-packed with uplifting truths about love and freedom, this phantasmagoria is both a feast for the senses and a balm for the soul." – Esquire.com

"City of Girls is smart and wise, and if you also want your beach read to speak to your sense of desire, longing, adventure, and coming of age, it certainly will not disappoint." –goop.com

"A fizzy cocktail of a novel…" – The Wall Street Journal 

"Sparkling… City of Girls begs big questions about sex, chosen families, and being a woman." – Marie Claire 

"When Elizabeth Gilbert set out to write City of Girls, her goal was to tell a story of female promiscuity that didn't end in death or misfortune—a direct and delicious rebuttal to the tragic, sexist fates of the Emma Bovarys and Anna Kareninas of the canon. The result is a wildly entertaining summertime romp." –Elle

"City of Girls tells the story of teenage Vivian's discovery of the life she wants to live: one full of pleasure, fun, frivolity and even scandal among the charismatic people who populate her aunt's midtown theater." – Good Housekeeping

"[In City of Girls] there are some of the most brilliant and truthful evocations of youthful sexual exploration that you'll ever read. Gilbert says in her foreword that she set out to write a novel about 'promiscuous girls whose lives are not destroyed by their sexual desires'. She has triumphed." – Spectator USA

"Elizabeth Gilbert—the best-selling writer, matron saint of divorced women, modern symbol of follow-your-bliss wisdom, believer in magic, and Oprah approved contemporary guru—has decided to go back in time… Ultimately, Gilbert wants us to question all the judgement society tosses at women like Vivian—and to question the nagging voice inside every girl telling her to be good." –Cosmopolitan
 
"City of Girls embraces. . . the power of a woman breaking from a traditional path, and the wisdom of taking true, two-handed joy in the pleasures that life offers up… City of Girls is an unbeatable beach read, loaded with humor and insight." – Newsday 

"This is a booze-and sex-filled romp that, in the words of showgirl Celia Ray, 'makes you want to smoke too many cigarettes and laugh with your head thrown back.'" – KMUW / Wichita NPR 89.1
 
"City of Girls centers on relationships among women… exploring the promises and pitfalls of female friendships [and] the importance both of owning our mistakes and forgiving ourselves as well as others." – CS Monitor

"City of Girls is more than a love letter to New York—it's a colorful portrait of what it means to be part of a theater company, or more accurately, to become a 'theater person'… Gilbert brings the reader into every moment happening just behind the curtain."  --Bust Magazine