Monster in the Middle: A Novel (Hardcover)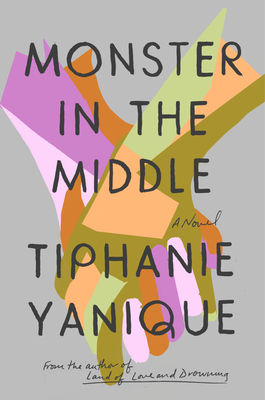 $27.00
Email orders@greenlightbookstore.com for information about this item.
November 2021 First Editions Club selection
Description
---
"Reveals on every page how love can persevere and take shape over time and space."—Boston Globe

"Transporting and deeply emotional."—Glamour

"One of the most inventive and talented stylists of her generation." —Vulture

From the award-winning author of Land of Love and Drowning, an electric new novel that maps the emotional inheritance of one couple newly in love.

When Fly and Stela meet in 21st Century New York City, it seems like fate. He's a Black American musician from a mixed-religious background who knows all about heartbreak. She's a Catholic science teacher from the Caribbean, looking for lasting love. But are they meant to be? The answer goes back decades—all the way to their parents' earliest loves.

Vibrant and emotionally riveting, Monster in the Middle moves across decades, from the U.S. to the Virgin Islands to Ghana and back again, to show how one couple's romance is intrinsically influenced by the family lore and love stories that preceded their own pairing. What challenges and traumas must this new couple inherit, what hopes and ambitions will keep them moving forward? Exploring desire and identity, religion and class, passion and obligation, the novel posits that in order to answer the question "who are we meant to be with?" we must first understand who we are and how we came to be.
About the Author
---
Tiphanie Yanique is the author of the award-winning novel Land of Love and Drowning, as well as the short story collection How to Escape from a Leper Colony. Winner of the 2014 Center for Fiction First Novel award, and a National Book Foundation 5 under 35 honoree, she has also received a Rona Jaffe Award and a Fulbright scholarship. Her short fiction has been published in The New Yorker and anthologized in Best American Short Stories 2020. Originally from the Virgin Islands, she now lives in Atlanta, where she is a professor at Emory University.
Praise For…
---
Praise for Monster In The Middle:

"Back and forth, through time and space, we examine the human propensity to love, to fail at loving, to love again…. On this tumultuous mapping of American magic, we find ourselves at the center. [Monster in the Middle] boldly tells us: You are here." —The New York Times Book Review

"Yanique brilliantly unifies the novel through her scintillating, consistently lyrical language, whether using lampoon, introspection, or tense social drama." – LA Review of Books

"A genre-defying multigenerational love story that moves fluidly across time and geography. . . Yanique narratively excavates how our family origins influence our aptitude for intimacy."—O, The Oprah Magazine

"Yanique is a writer's writer, one of the most inventive and talented stylists of her generation… [She] explores the way love can echo along the corridors of history, through police brutality and a pandemic, deftly weaving and juxtaposing the trajectories that make love possible."—Vulture
 
"The story of one couple is magnified and layered through the histories of the generations of lovers that preceded them. Spanning decades and geographies, this novel reveals on every page how love can persevere and take shape over time and space."—Boston Globe

"Themes of race, religion, class, and education appear throughout this ambitious novel, but its abiding focus is on the intimate, and the way broader social forces can impinge upon it… Reality assumes a surreal tinge, and the fluidity of narration, across time, space, and character, imparts an epic register to the intimate encounter between Stela and Fly." —Harper's Magazine

"Monster in the Middle manages something extraordinary—it's a truly unique story about love, specifically Black love. In Yanique's telling, it's not 'boy meets girl,' but 'two people meet, and thousands of years of family trees, values, and experiences converge.' . . .transporting and deeply emotional."—Glamour

"Each of Fly and Stela's stories could stand on their own, but when the two finally meet, it's simply perfection. The novel brings us through 2020 — and the ending left me truly speechless. So can you all read it so we can discuss? (Seriously, read this.)" —Hey Alma
 
"At a recent book event Tiphanie said this book is kind of an embodiment of the phrase, 'when you marry someone, you marry their whole family.' At its core, this book is about belonging, and the tension between being held and being kept. Delectable."—Magic

"Unique and memorable . . .A rich and honest examination of family histories, cultural disconnection, and the way people fall in love."—Kirkus

"Soft and intricate with no detail wasted. Readers are lured into the themes of self-discovery, acceptance, and trauma, with an ending well worth the investment." – Booklist

"Yanique (How to Escape from a Leper Colony) inventively juxtaposes the start of a new relationship with family histories in this sumptuous saga. . . . Each arc reads as an evocative short story and an episode in the two protagonists' complex set of unraveled connections. This introspective exploration of first and lasting loves will hit the spot with fans of character-driven family dramas." —Publishers Weekly

"Tiphanie Yanique's Monster in the Middle is a compelling exploration of how we become who we are and how we manage to find our way to love. In her lyrical prose, the myriad possibilities of being—the accidents of birth, of sex, of race and geography, the choices we make, our compulsions—coalesce into something that feels, gloriously, like destiny." —Natasha Trethewey, Pulitzer Prize-winning author of Memorial Drive
 
"Monster in the Middle is as boundless as it is affecting. Yanique's prose leaps with possibility, as her characters live and laugh and fight and love. Yanique captures romance from its peaks to its craters, deftly weaving whole worlds from everything in between."—Bryan Washington, author of Memorial
 
"A total wonder. Utterly original and structurally thrilling. I am in awe of this novel and Tiphanie Yanique's masterful storytelling. This feels like a modern fable, a contemporary folk ballad full of unforgettable characters who, by the end, felt as familiar to me as family. What a gorgeous ode to love and its power." —Brandon Taylor, author of Filthy Animals and Real Life
 
"Tiphanie Yanique is one of our very best writers. This book is another marvel, expertly mixing voices and styles, even structures and traditions, to capture the way lives naturally flow together and apart over time. . .Monster in the Middle is a book to study and savor." —Matthew Salesses, author of Craft in the Real World