Foreskin's Lament: A Memoir (Paperback)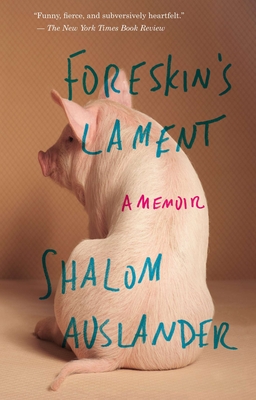 $16.00

Available In Store Now (while supplies last)
Staff Reviews
---
A bitterly hilarious glimpse into (Ashkenazi) Jewish neurosis. A neurosis that any recovering-from-traditional-restriction (looking @ u Catholics) could maybe identify with. Auslander recounts his orthodox upbringing, secret rebellious childhood, and break from religion -- all while remaining paralyzingly terrified of the omniscient G-d, who could take away anything that brings him joy at any moment. So he avoids joy altogether. Reading him talk to God made me feel delightfully blasphemous myself: "Fuck you. But please don't kill my son because I said that." If you heard a hyena cackling on the C train in April of 2021, I'm sorry, that was me, reading this book.
— Shanni
Description
---
A New York Times Notable Book, and a "chaotic, laugh riot" (San Francisco Chronicle) of a memoir.

Shalom Auslander was raised with a terrified respect for God. Even as he grew up and was estranged from his community, his religion and its traditions, he could not find the path to a life where he didn't struggle daily with the fear of God's formidable wrath. Foreskin's Lament reveals Auslander's "painfully, cripplingly, incurably, miserably religious" youth in a strict, socially isolated Orthodox Jewish community, and recounts his rebellion and efforts to make a new life apart from it. His combination of unrelenting humor and anger renders a rich and fascinating portrait of a man grappling with his faith and family.
About the Author
---
Shalom Auslander was raised in Monsey, New York. Nominated for the Koret Award for writers under thirty-five, he has published articles in Esquire, The New York Times Magazine, Tablet, The New Yorker, and has had stories aired on NPR's This American Life. Auslander is the author of the short story collection Beware of God and the acclaimed novel Hope: A Tragedy. He lives in New York City. To learn more about Shalom Auslander, please visit www.shalomauslander.com.
Praise For…
---
"Fierce, funny, and subversively heartfelt...With his middle finger pointed at the heavens and a hand held over his heart, Auslander gives us Foreskin's Lament. Mazel tov to him. And God? Well, he'll survive."—New York Times Book Review

"Auslander writes like Philip Roth's angry nephew... a scathing theological rant, a funny, oddly moving coming-of-age memoir, and an irreverent meditation on family, marriage, and cultural identity. God may be a bit irritated by this book, but I loved it."—Tom Perrotta, author of Little Children and The Abstinence Teacher

"A laugh-out-loud quarrel with God."—Newsweek

"A terrific book I was sad I read in so few sittings, because I wanted more."
—San Francisco Chronicle

"Hilarious, caustic, and surprisingly moving." —Philadelphia Inquirer

"Blasphemous and funny."—Newsweek

"A surprise and delight."—Boston Globe

"A fretful, self-effacing, bitter…hilarious story."—The Houston Chronicle

"Wryly comic."—New York Magazine

"Hilarious, caustic, and surprisingly moving."—Philadelphia Inquirer

"A very funny memoir."—GQ

"Lyrical, hysterical… funny and angry."—Cleveland Plain Dealer

"An audacious, poke-God-in-the eye memoir."—Miami Herald