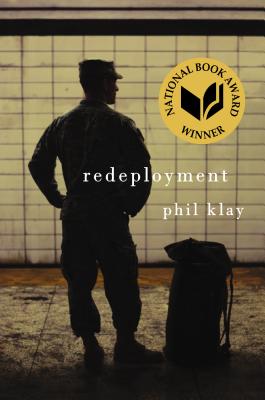 $26.95
Email orders@greenlightbookstore.com for information about this item.
March 2014 Indie Next List
---
"In a whirlwind of short stories, Klay gives us a good, strong impression of how it must feel to be an American soldier in the 21st century. The whole gamut of emotions including guilt, worry, post-traumatic stress disorder, and the difficulties associated with homecoming, are presented as real life events. Sometimes chilling to the bone, sometimes heartbreaking, every story has its own value and will touch your heart."
— Jean-Paul Adriaansen, Water Street Books, Exeter, NH
Description
---
Winner of the 2014 National Book Award for Fiction · Winner of the John Leonard First Book Prize · Selected as one of the best books of the year by The New York Times Book Review, Time, Newsweek, The Washington Post Book World, Amazon, and more 

Phil Klay's Redeployment takes readers to the frontlines of the wars in Iraq and Afghanistan, asking us to understand what happened there, and what happened to the soldiers who returned.  Interwoven with themes of brutality and faith, guilt and fear, helplessness and survival, the characters in these stories struggle to make meaning out of chaos.

In "Redeployment", a soldier who has had to shoot dogs because they were eating human corpses must learn what it is like to return to domestic life in suburbia, surrounded by people "who have no idea where Fallujah is, where three members of your platoon died."  In "After Action Report", a Lance Corporal seeks expiation for a killing he didn't commit, in order that his best friend will be unburdened.  A Morturary Affairs Marine tells about his experiences collecting remains—of U.S. and Iraqi soldiers both.  A chaplain sees his understanding of Christianity, and his ability to provide solace through religion, tested by the actions of a ferocious Colonel.  And in the darkly comic "Money as a Weapons System", a young Foreign Service Officer is given the absurd task of helping Iraqis improve their lives by teaching them to play baseball.  These stories reveal the intricate combination of monotony, bureaucracy, comradeship and violence that make up a soldier's daily life at war, and the isolation, remorse, and despair that can accompany a soldier's homecoming.

Redeployment is poised to become a classic in the tradition of war writing.  Across nations and continents, Klay sets in devastating relief the two worlds a soldier inhabits: one of extremes and one of loss.  Written with a hard-eyed realism and stunning emotional depth, this work marks Phil Klay as one of the most talented new voices of his generation.
About the Author
---
Phil Klay is a Dartmouth graduate and a veteran of the US Marine Corps.  He served in Iraq during the surge and subsequently received an MFA from Hunter College. His first published story, "Redeployment", appeared in Granta's Summer 2011 issue. His writing has also appeared in the New York Times, the New York Daily News, Tin House, and in The Best American Nonrequired Reading 2012.
Praise For…
---
Dexter Filkins, The New York Times Book Review:
"[Klay captures] on an intimate scale the ways in which the war in Iraq evoked a unique array of emotion, predicament and heartbreak. In Klay's hands, Iraq comes across not merely as a theater of war but as a laboratory of the human condition in extremis.
Redeployment
is hilarious, biting, whipsawing and sad. It's the best thing written so far on what the war did to people's souls."
Michiko Kakutani, The New York Times:
"In
Redeployment
, his searing debut collection of short stories, Phil Klay—a veteran of the United States Marine Corps, who served in Iraq during the surge—gives the civilian reader a visceral feeling for what it is like to be a soldier in a combat zone, and what it is like to return home, still reeling from the dislocations of war. Gritty, unsparing and fiercely observed, these stories leave us with a harrowing sense of the war in Iraq as it was experienced, day by day, by individual soldiers."
George Packer, The New Yorker:
"The best literary work thus far written by a veteran of America's recent wars.... Klay's fiction peels back every pretty falsehood and self-delusion in the encounter between veterans and the people for whom they supposedly fought."
Kathryn Schulz, New York Magazine:
"An excellent, upsetting debut collection of short stories. Klay's own view is everywhere, existential and practical, at home and abroad, distributed with wonderful clarity of voice and harrowing specificity of experience among Army chaplains, enlisted men, Foreign Service officers, members of Mortuary Affair, and more."
The Wall Street Journal:
"The influences behind Mr. Klay's writing go far beyond Iraq. At times
Redeployment
recapitulates the remarkably tender, self-conscious style that Tim O'Brien forged from his experiences in Vietnam…Mr. Klay is able to surprise and provoke….Mr. Klay gives a deeply disquieting view of a generation of soldiers reared on war's most terrible contradictions." 
Entertainment Weekly:
"Klay—a Marine who served during the surge—has an eye and an ear for a single searing line of dialogue or a scene of maddening dissonance that can pierce your soul….Klay brilliantly manages to wring some sense out of the nonsensical—resulting in an extraordinary, if unnerving, literary feat." 
San Francisco Chronicle:
"Klay's closely observed debut collection of stories…makes a fine contribution….Klay establishes an impressive authority over his subject, which he maintains throughout the book in a clipped and jargon-laden prose."
Portland Oregonian:
"One of the best debuts of the year."
Men's Journal:
"In a book that's drawing comparisons to classic war literature like Tim O'Brien's
The Things They Carried
, Klay examines the deep conflict, in all of us, between wanting to tell our stories and wanting to protect them from being diminished or misunderstood."
The Daily Beast:
"Phil Klay has written brilliant, true, and winning fiction on the Iraq War."
Grantland:
"Perhaps the most vital short story collection to emerge in the past few years….
Redeployment
falls somewhere between the in-the-trenches lyricism of Kevin Powers's
The Yellow Birds
and the bold satire of Ben Fountain's
Billy Lynn's Long Halftime Walk
. And yet, it feels more urgent than both….
Redeployment
is urgent, smart, and darkly comic."
Publishers Weekly (starred):
"Klay grasps both tough-guy characterization and life spent in the field, yet he also mines the struggle of soldiers to be emotionally freed from the images they can't stop seeing. It's clear that Klay, himself a veteran of the U.S. Marine Corps who served in Iraq, has parlayed his insider's knowledge of soldier-bonding and emotional scarring into a collection that proves a powerful statement on the nature of war, violence, and the nuances of human nature."
Kirkus Reviews (starred):
"A sharp set of stories....Klay's grasp of bureaucracy and bitter irony here rivals Joseph Heller and George Orwell....A no-nonsense and informed reckoning with combat."
Barbara Hoffert, Library Journal:
"Important reading; pay attention."
Lawrence Rungren, Library Journal:
"Harrowing at times and blackly comic at others, the author's first collection could become for the Iraq and Afghanistan conflicts what Tim O'Brien's
The Things They Carried
is for the Vietnam War."
Ben Fountain, author of 
Billy Lynn's Long Halftime Walk
:
"If you want to know the real cost of war for those who do the fighting, read
Redeployment
. These stories say it all, with an eloquence and rare humanity that will simultaneously break your heart and give you reasons to hope."
Nathan Englander, author of What We Talk About When We Talk About Anne Frank:
"As we try to understand the human costs of yet another foreign conflict, Phil Klay brings us the stories of the American combatants, told in a distinct, new, and powerful voice."
Karen Russell, author of Swamplandia!:
"
Redeployment
 is a stunning, upsetting, urgently necessary book about the impact of the Iraq war on both soldiers and civilians. Klay's writing is searing and powerful, unsparing of its characters and its readers, art made from a soldier's fearless commitment to confront those losses that can't be tallied in statistics. 'Be honest with me,' a college student asks a returning veteran in one story, and Phil Klay's answer is a challenge of its own: these stories demand and deserve our attention.
Anthony Swofford, author of Jarhead:
"Phil Klay's stories are tightly wound psychological thrillers. The global wars of our last decade weave in and out of these affecting tales about characters who sound and feel like your neighbors. Klay comes to us through Leo Tolstoy, Ray Carver, and Ann Beattie. It's a thrill to read a young writer so brilliantly parsing the complexities and vagaries of war. That he does so with surgical precision and artful zest makes this a must-read."
Colum McCann, author of Let the Great World Spin:
"When the history of these times are finally shaken out, and the shredders have all been turned off, we will turn to writers like Phil Klay to finally understand the true nature of who we were, and where we have been, and where we are still going. He slips himself in under the skin of the war with a muscular language and an agile heart and a fair amount of complicated doubt. 
Redeployment
will be one of the great story collections of recent times. Phil Klay is a writer of our times. I can't wait to see what he does next."
Siobhan Fallon, author of You Know When the Men Are Gone:
"To most, the war in Iraq is a finished chapter in history. Not so to the Marines, family members, and State Department employees in Phil Klay's electrifying debut collection,
Redeployment
. Thanks to these provocative and haunting stories, the war will also become viscerally real to readers. Phil Klay is a powerful new voice and
Redeployment
stands tall with the best war writing of this decade."
Patrick McGrath, author of Trauma:
"
Redeployment
is fiction of a very high order. These are war stories, written with passion and urgency and consummate writerly skill. There's a clarity here that's lacerating in its precision and exhiliration in its effect."
Lea Carpenter, author of Eleven Days:
"These stories are surgically precise strikes to the heart; you can't read them without recalling other classic takes on war and loss—Conrad, Herr, Hemingway. Klay maps the cast of our recent Middle East conflicts and illuminates its literal, and philosophical center: human casualty."

Roxana Robinson, author of Sparta:
"These are gorgeous stories—fierce, intelligent and heartbreaking. Phil Klay, a former Marine, brings us both the news from Iraq and the news from back home. His writing is bold and sure, and full of all sorts of authority—literary, military and just plain human. This is news we need to hear, from a new writer  we need to know about."
Coverage from NPR