Fort Ticonderoga, The Last Campaigns: The War in the North, 1777–1783 (Hardcover)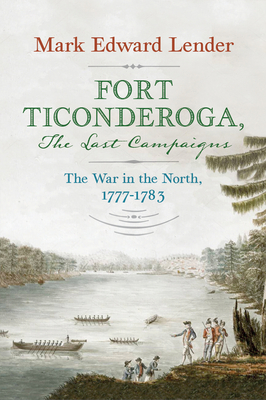 $30.00
Email orders@greenlightbookstore.com for information about this item.
Description
---
During the War for Independence, Fort Ticonderoga's guns, sited critically between Lakes Champlain and George, dominated north-south communications in upstate New York that were vital to both the British and American war efforts. In the public mind Ticonderoga was the "American Gibraltar" or the "Key to the Continent," and patriots considered holding the fort essential to the success of the Revolutionary cause. Ticonderoga was a primary target in British Lieutenant General John Burgoyne's 1777 campaign to crush American resistance in the north and end the rebellion in a decisive stroke. American efforts to defend the fort in June against overwhelming odds entailed political and military intrigue, bungling, heroism, and ultimately a narrow escape for the Continental and provincial forces under Major General Arthur St. Clair. The loss of Ticonderoga stunned patriot morale and ignited one of the greatest political firestorms of the war. But the fortunes of war turned. Two months later, the rebels mounted a sensational—if little known—counter-attack on Ticonderoga that had major implications for Burgoyne's eventual defeat at Saratoga in October. Yet Saratoga brought no peace, and Ticonderoga would be central to additional military and political maneuverings—many of them known only to specialist historians—that would keep the region on edge until the end of the war in 1783. 
Based on new archival research and taking advantage of the latest scholarship, 
Fort Ticonderoga, The Last Campaigns: The War in the North, 1777-1783 
by distinguished historian Mark Edward Lender highlights the strategic importance of the fort as British, American, and regional forces (including those of an independent Vermont Republic) fought for control of the northern front at a critical point in the war. The book tells the Ticonderoga story in all of its complexity and drama, correcting misconceptions embedded in many previous accounts, and sheds vital new light on this key chapter in America's struggle for independence. 
About the Author
---
Mark Edward Lender, Professor Emeritus of History at Kean University, is the author or co-author of twelve books and many articles on early American military, social, and institutional history, including Cabal! The Plot Against George Washington, Fatal Sunday: George Washington, the Monmouth Campaign, and the Politics of Battle, with Garry Wheeler Stone, and A Respectable Army: The Military Origins of the Republic, 1763–1789, with James Kirby Martin. He lives in Richmond, Virginia.
Praise For…
---
"Lender has written a lively and engaging account of action around the "Gibraltar of the North." His narrative of activities sparkles, his word pictures of important characters are interesting, even if sometimes surprising. For example, he refers to the unlovable Horatio Gates in command in 1776 as "the right man in the right place at the right time." Other commanders and officials, American, British, and German, receive adequate notice. Squabbling among American officers was a constant refrain. Lender's astute research is wide and deep. He has unearthed or recounted a multitude of facts, incidents, and anecdotes related to the Revolutionary War in the northern theater. This is first class American history."—Journal of America's Military Past

"A superb history from the distinguished scholar we have come to count on for brilliant analysis and vivid narrative. Mark Lender accomplishes something both necessary and innovative: a much needed account of the war in the North that situates Fort Ticonderoga at its heart. This is required reading for both scholars and enthusiasts of the American Revolution and its military past."—Seanegan Sculley, Academy Professor, U.S. Military Academy, and author of Contest for Liberty: Military Leadership in the Continental Army, 1775–1783

"Warriors from many nations fought over and fortified the key terrain named Ticonderoga as they sought to control the borderland that was the Champlain Valley in the eighteenth century. Their actions put Ticonderoga on the maps that politicians and diplomats used to claim territory. In the astute narrative of Fort Ticonderoga, The Last Campaigns, Mark Lender masterfully scouts the military and political terrain—in the context of command and timing—as he charts when, how, and why British and American forces took, held, and left Ticonderoga as its strategic importance waxed and waned during the American Revolution."—Holly Mayer, Professor Emerita, Duquesne University, and author of Congress's Own: A Canadian Regiment, the Continental Army, and American Union