Mortal Evidence: The Forensics Behind Nine Shocking Cases (Hardcover)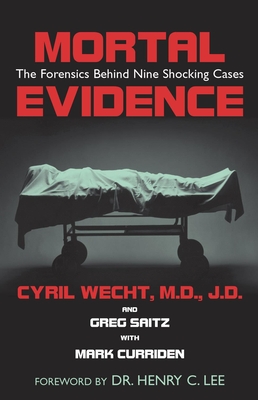 $26.99

Not In Store / Available To Order (allow for shipping time to bookstore or direct-to-home)
Description
---
A lifeless newborn baby is found discarded in a motel Dumpster. Authorities quickly arrest the infant's teenage parents, charging them with murder. Did Amy Grossberg and Brian Peterson, in fact, murder their own baby? Tammy Wynette died suddenly at a relatively young age, and yet no autopsy was performed? Was someone trying to hide the real cause of death? Did Sam Sheppard (later dubbed "The Fugitive" based on a television series) really kill his wife? And if not, who committed the murder?

Things are not always as they appear, as world-renowned forensic pathologist Dr. Cyril Wecht shows in this riveting behind-the-scenes look at nine famous cases. In the nationally known baby case involving Amy Grossberg and Brian Peterson, Dr. Wecht reviews the evidence and comes to a startling conclusion. In fascinating detail, he demonstrates how the tools of forensic pathology often uncover murky, long-hidden secrets that crack seemingly unsolvable crimes. Writing in the first-person Dr. Wecht leads you into the heart of the investigation, focusing each chapter on a single engrossing drama. He reveals the most startling evidence that shows why JonBenet Ramsey's killer most likely came from within her home, why O.J. Simpson probably had an accomplice in the murder of Nicole Simpson and Ron Goldman, shocking revelations about Robert Berdella's grisly torture and sex-abuse crimes against young men, and many intriguing facts about other infamous cases.

If you find the fictional plots of such dramas as C.S.I. exciting, you will be amazed by the true stories told by Dr. Wecht, with the help of two top-flight veteran reporters, Greg Saitz and Mark Curriden, in this amazing real-life thriller. As this intriguing page-turner proves, the science of forensic pathology has changed the face of detective work forever.
About the Author
---
Cyril H. Wecht, M.D., J.D. (Pittsburgh, PA), one of the world's leading pathologists, is the author of Who Killed JonBenet Ramsey?, Grave Secrets, Cause of Death, and hundreds of professional publications. He has served as president of both the American College of Legal Medicine and the American Academy of Forensic Sciences, and has appeared on numerous nationally syndicated television programs including NBC's Dateline, Larry King Live, 20/20, Burden of Proof, and many others.
Greg Saitz (Parsippany, NJ), for many years a crime and court reporter for The (Newark) Star Ledger, now works on the business desk.
Mark Curriden (Dallas, TX) is the lawyer-media strategist for Vinson & Elkins, LLP, and the former legal writer for The Dallas Morning News and The Atlanta Constitution. >.
Praise For…
---
"Dr. Cyril Wecht has brilliantly fused his skills as a forensic pathologist, attorney and author to show how the world of forensic science is used and misused by prosecutors, defense attorneys, police and expert witnesses. Mortal Evidence is a primer on how the criminal justice system really works."
-Dr. Michael M. Baden, Forensic Pathologist and
former Chief Medical Examiner, New York City

"Wecht is a master. Whether you agree or disagree with his conclusions - regarding Jon Benet Ramsey, Ted Binion, Sam Sheppard or OJ Simpson - you ignore his findings at great peril. In Mortal Evidence, Wecht brings back the dead and has them testify from the grave."
-Alan Dershowitz, Harvard Law School

"Each case leaves a chilling feeling as Dr. Wecht examines the footsteps of what each killer or killers may have done in some of America's most notorious crimes ... As always, Dr. Wecht finds the clues that others overlook."
-Greta Van Susteren, Host of Fox News Channel's "On the Record"