The Robbery of Nature: Capitalism and the Ecological Rift (Paperback)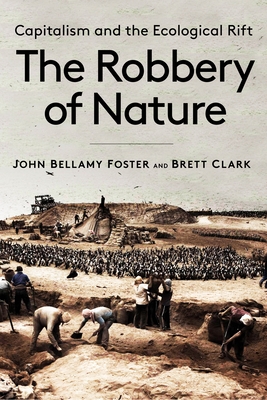 $28.00
Not In Store / Available To Order (allow for shipping time to bookstore or direct-to-home)
Description
---
Bridges the gap between social and environmental critiques of capitalism
In the nineteenth century, Karl Marx, inspired by the German chemist Justus von Liebig, argued that capitalism's relation to its natural environment was that of a robbery system, leading to an irreparable rift in the metabolism between humanity and nature. In the twenty-first century, these classical insights into capitalism's degradation of the earth have become the basis of extraordinary advances in critical theory and practice associated with contemporary ecosocialism. In The Robbery of Nature, John Bellamy Foster and Brett Clark, working within this historical tradition, examine capitalism's plundering of nature via commodity production, and how it has led to the current anthropogenic rift in the Earth System.
About the Author
---
John Bellamy Foster is an editor of Monthly Review and a professor of sociology at the University of Oregon. His previous books on ecology include: The Vulnerable Planet, Marx's Ecology, Hungry for Profit (edited with Fred Magdoff and Frederick Buttel), Ecology Against Capitalism, The Ecological Revolution, The Ecological Rift (with Brett Clark and Richard York), What Every Environmentalist Needs to Know About Capitalism (with Fred Magdoff), Marx and the Earth (with Paul Burkett), and The Robbery of Nature (with Brett Clark).