West Virginia Wildlife: An Introduction to Familiar Species (Pocket Naturalist Guide) (Paperback)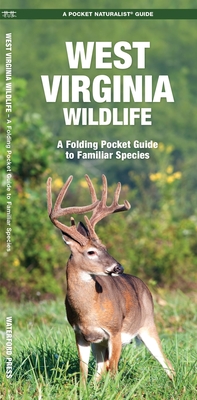 $7.95
Email orders@greenlightbookstore.com for information about this item.
Description
---
Northern and southern forests converge in West Virginia, allowing for an intersection of animals from both the north and south. Black Bears and White-tailed Deer forage in hardwood forests, where numerous species of wood-warblers, flycatchers, and thrushes nest in the spring and summer. An astounding 34 salamander species occupy the Mountain State, as do beautifully patterned turtles like Wood Turtle and Spotted Turtle. Animals often represent the face of an ecosystem, so getting acquainted with the most representative species is useful. You can readily do this with the portable and beautifully illustrated West Virginia Wildlife, which features 140 common and familiar mammals, birds, reptiles, amphibians, fishes, butterflies, and other insects as well as an ecoregion map showing over 20 wildlife-viewing hotspots and learning sites. Laminated for durability, this lightweight, 12-panel folding pocket guide is the ideal companion for educators, learners, naturalists, and educators who are keen to learn more about animals and peer more closely into their fascinating lives. Made in the USA.
About the Author
---
Zoologist Jim Kavanagh has made a career out of introducing novices to plants, animals, the sciences and world cultures. In addition to creating over 500 simplified nature guides, he has also authored guides to languages, cities and outdoor skills. An avid traveler and backpacker, Kavanagh's path has taken him around the world to many remote destinations including the upper Amazon, Africa, Australia, and the Arctic Circle (and this is just the As). He is also the author of a series of state-specific guides to common species and natural attractions and a children's book on evolution.www.waterfordpress.com