I Am a Filipino: And This Is How We Cook (Hardcover)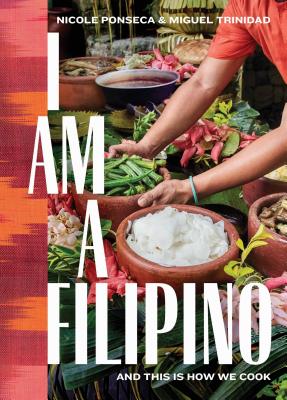 $40.00

Not In Store / Available To Order (allow for shipping time to bookstore or direct-to-home)
Description
---
2019 James Beard Award Finalist

Named a Best Cookbook of the Year by The New Yorker, Boston Globe, Chicago Tribune, Los Angeles Times, New York Times Book Review, Houston Chronicle, Food52, PopSugar, and more

To eat—and cook—like a Filipino involves puckeringly sour adobos with meat so tender you can cut it with a fork, national favorites like kare kare (oxtail stew) and kinilaw (fresh seafood cured in vinegar), Chinese-influenced pansit (noodles), tamales by way of early Mexican immigrants, and Arab-inflected fare, with its layered spicy stews and flavors of burnt coconut. But it also entails beloved street snacks like ukoy (fritters) and empanadas and the array of sweets and treats called meryenda. Dishes reflect the influence and ingredients of the Spaniards and Americans, among others, who came to the islands, but Filipinos turned the food into their own unique and captivating cuisine. Filled with riotously bold and bright photographs, I Am a Filipino is like a classic kamayan dinner—one long festive table piled high with food. Just dig in!
About the Author
---
Nicole Ponseca is the founder and creative director of Maharlika and Jeepney restaurants in New York City. A native of San Diego, Ponseca moved to New York to pursue a career in advertising but found her true calling upon discovering a lack of authentic Filipino food in the city and deciding to do something about it. Together with chef Miguel Trinidad, she opened Maharlika in 2011 and Jeepney one year later. Ponseca is also a motivational speaker for young Filipino adults and an active fund-raiser for charities in the Philippines. Both authors live in New York City. Find them on Instagram @nicoleponseca and @chefmigsnyc.
Praise For…
---
"Extraordinary. . . . I Am A Filipino is not only a guide on how to cook like a Filipino; it is also a guide through the Philippines, its history, and its culture."
—Saveur

"An exuberant gastronomic manifesto. . . . A brilliant cookbook that doubles as an important work of cultural scholarship."
—The New Yorker, The Best Food Books of 2018

"A deeply researched and important work."
—Chicago Tribune, Our 10 favorite cookbooks of 2018

"I cracked open this book knowing very little about Filipino food, and now it's all I can think about. That's the power of a good cookbook: It can take a cuisine that's unfamiliar and—through storytelling, technical education, gorgeous photography and killer recipes—transform it into a passion.
—Houston Chronicle, The Best Cookbooks of 2018

"Recipes run the gamut from comforting. . . to piquant . . . [to] haunting."
—The New York Times, Best Cookbooks of Fall 2018
"Part cookbook, part manifesto, Nicole Ponseca wants to change the conversation around Filipino food. For Filipino readers, the book is a statement of pride in Filipino identity and culinary heritage and for those still learning about the cuisine, the book is an excellent course in the flavors that ground it and how to bring them into your home. For the latter group, don't skip the book's Filipino 101, which grounds cooks in the essential methods and ingredients of this complex and intensely flavorful cuisine."
—Food Wine, The Best Cookbooks Coming Out This Fall

"A great guide to both the subtleties and history of the food, and the dishes themselves. From pancit and adobo to chorizo burgers and jackfruit ice cream, this book demonstrates the delicious mash-up of recipes that define the vibrant cuisine."
—Los Angeles Times
"This cookbook offers modern Filipino recipes that capture the bright, tangy, savory, and spice essence of the country's food, which reflects an array of influences from Chinese, to Middle Eastern, to Spanish, Mexican, and even American. Learn to make fried street snacks like ukoy, tender adobos, and bright seafood."
—Epicurious
"Vividly written and photographed, I Am A Filipino and This Is How We Cook is more than a cookbook. It's a passageway into a misunderstood cuisine as complex as its country's turbulent history, whose time in the spotlight has finally come."
—Atlanta Journal-Constitution