Flavor Flours: A New Way to Bake with Teff, Buckwheat, Sorghum, Other Whole & Ancient Grains, Nuts & Non-Wheat Flours (Hardcover)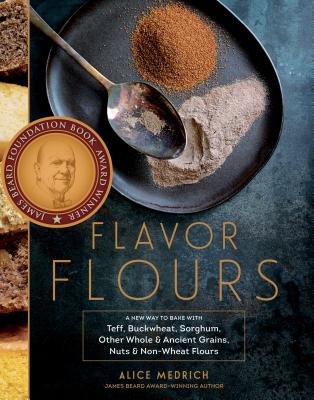 Email orders@greenlightbookstore.com for information about this item.
Out of Print / Unavailable
Description
---
Winner, James Beard Foundation Award, Best Book of the Year in Baking & Desserts

In this monumental new work, beloved dessert queen Alice Medrich applies her baking precision and impeccable palate to flavor flours—wheat-flour alternatives including rice flour, oat flour, corn flour, sorghum flour, teff, and more. The resulting (gluten-free!) recipes show that baking with alternate flours adds an extra dimension of flavor. Brownies made with rice flour taste even more chocolaty. Buckwheat adds complexity to a date and nut cake. Ricotta cheesecake gets bonus flavor from a chestnut flour crust; teff is used to make a chocolate layer cake that can replace any birthday cake with equally pleasing results. All of the nearly 125 recipes—including Double Oatmeal Cookies, Buckwheat Gingerbread, Chocolate Chestnut Soufflé Cake, and Blueberry Corn Flour Cobbler—take the flavors of our favorite desserts to the next level.

The book is organized by flour, with useful information on its taste, flavor affinities, and more. And because flavor flours don't react in recipes the same way as wheat flour, Medrich explains her innovative new techniques with the clarity and detail she is known for.
About the Author
---
Alice Medrich has won more cookbook-of-the-year awards and best in the dessert and baking category awards than any other author. She received her formal training at the prestigious École Lenôtre in France and is credited with popularizing chocolate truffles in the United States when she began making and selling them at her influential Berkeley dessert shop, Cocolat. She has devoted much of her career to teaching and sharing her expansive knowledge about baking. Find her on Instagram and Twitter @alicemedrich.
 
Praise For…
---
"Authoritative. . . . In [Medrich's] hands, earthy teff flour, nutty sorghum flour, sweet coconut flour and others are not just substitutes for wheat flour; they add complex and fascinating notes to baked goods of all kinds."
—New York Times

"A sophisticated (and decidedly un-hippie) primer on using alternative flours like corn, oat, buckwheat and sorghum to add complexity to baked goods."
—Wall Street Journal

"New, assiduously tested recipes for cakes, cookies, biscuits, and more. The book's genius is that . . . Alice began by isolating the best properties of a host of nonwheat flours, then created treats that spotlight their flavors. The results are delicious, and just happen to be gluten-free."
—Martha Stewart Living

"Quietly revolutionary. . . . [The] thinking baking person's gluten-free cookbook."
—Paste

"An entirely new approach to baking without wheat. This book is a game changer."
—Portland Oregonian
 
"Demystifies the flavor and texture properties of the flours, with recipes that range from a dinner-party-worthy chocolate-chestnut soufflé cake to a raisin-studded dark and spicy pumpkin loaf for all-day snacking. Classic favorites like brownies, cookies and basic cakes are also part of the mix."
—San Francisco Chronicle

"Flavor Flours . . . will liven up your baking routine, whether or not you're gluten-free."
—Food52

"When I hear that Alice Medrich . . . has a new book out, it's all I can do to keep myself from running to the nearest bookstore and shouting, 'Shut up and take my money!' at whoever's behind the counter."
—Library Journal
 
"Her spin on gluten-free baking actually improves cakes, scones, and cookies." 
—Refinery29

"Alice Medrich introduces us to a new round of flours, revising the classics as well as creating a spectacular, contemporary range of desserts for today's tastes using natural grains to dial up flavors. Flavor Flours breaks new ground for bakers, and each page tempts with a delicious new discovery."
—David Lebovitz, author of My Paris Kitchen

"I'm thrilled that Alice Medrich, one of America's premier bakers, has embraced teff, buckwheat, oat, and rice flours. She understands that these flours are far more than substitutes for wheat flour. These flavor flours are stars on their own, full of character. Her recipes are sure to entice you to move into the kitchen and start baking." 
—Shauna James Ahern, author of Gluten-Free Girl Every Day