Hope & Healing for Transcending Loss: Daily Meditations for Those Who Are Grieving (Paperback)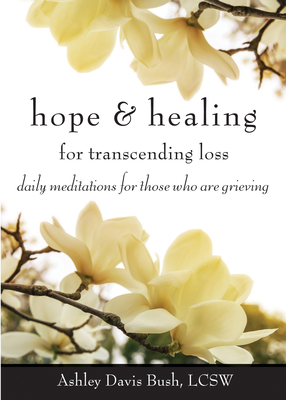 $16.95
Email orders@greenlightbookstore.com for information about this item.
Description
---
When we lose someone close, it's easy to feel unmoored. We need to find a new rhythm to our days and new ways to connect to the ones we've lost. Ashley Davis Bush wrote this book to offer you just that: small doses of comfort and hope for getting through your day when you are still heavy with grief. Each bite-sized reading offers reassurance that healing is possible, whether it's an ordinary day of living with loss or a special anniversary day. Poetic words, combined with photographic images throughout the book, help provide solace along with the perspective that love always transcends even the deepest loss.
Death doesn't end the relationship; it simply forges a new type of relationship--one based not on physical presence but on memory, spirit, and love.
About the Author
---
Ashley Davis Bush, LCSW, is the internationally bestselling author of six self-help books including the classic Transcending Loss. She has appeared on the Diane Rehm Show, MSNBC, Fox News, The Iyanla Show, and countless radio programs. She earned a BA from Smith College and an MSW from Columbia University's School of Social Work. Visit Ashley online at www.ashleydavisbush.com.
Praise For…
---
"Twenty-five years spent working with grieving clients has given Ashley Bush a great deal of insight into the processes involved in healing from the loss of a loved one. Transcending Loss, her bestseller, has been helping people for decades. Now she has created a very special tool which those recovering from loss can use daily to help themselves process the painful change that they are living through. It is a book of daily meditations for those struggling with profound loss. But don't be deceived by the book's familiar thought-for-the-day format. Her concise introduction to these meditations contains an astounding amount of valuable information about grieving. Contradicting many of the standard grieving myths, she isn't sugar-coating any of it or telling readers to get over it. Instead, she tells us that the pain doesn't stop, that there is no closure. She tells us that the goal is merging the loss into our lives and eventually transcending the pain. The 365 meditations she has put together gently take readers through the journey of getting to know grief and accept it. Each meditation ends with a one sentence daily affirmation. The book also contains a section for Special Trigger Days, and a carefully selected list of Suggested Reading." -Anna Jedrziewski, Retailing Insight
— Reviews