101 Myths of the Bible: How Ancient Scribes Invented Biblical History (Paperback)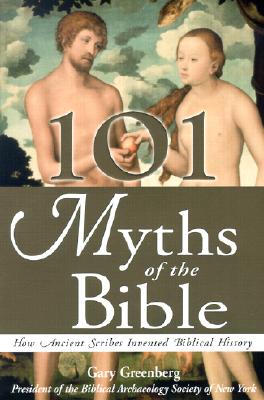 Description
---
In his startling book, Gary Greenberg exposes the reality behind the greatest story ever told. Learn about the Egyptian myths and ancient folklore that survive in one of history's most sacred texts, and discover how: -King David's bodyguard, not David, killed Goliath
-Noah's Ark did not land on Mount Ararat
-Samson did not pull down a Philistine temple
-There are at least two versions of the Ten Commandments
-The walls of Jericho were destroyed 300 years before Joshua arrived there
-Sodom and Gomorrah were mythical cities that never existed
-The story of Esther had nothing to do with the Jews of Persia
-And much, much more 101 Myths of the Bible provides a new dimension of biblical studies for believers, historians and anyone who has ever wondered about the facts behind the legends. By looking deeper into history, Greenberg shows that the true story makes the Bible more interesting than ever imagined.
About the Author
---
Gary Greenberg is the author of The Moses Mystery: The African Origins of the Jewish People. He is a member Society of Biblical Literature, The Egypt Exploration Society, The American Research Center in Egypt and The Archaeological Institute of America. He has addressed The International Conference of Egyptologists, The Society of Biblical Literature and conferences held by the American Research Center in Egypt. He is a senior trial lawyer for the Criminal Defense Division of the Legal Aid Society in New York City.