Work Won't Love You Back: How Devotion to Our Jobs Keeps Us Exploited, Exhausted, and Alone (Paperback)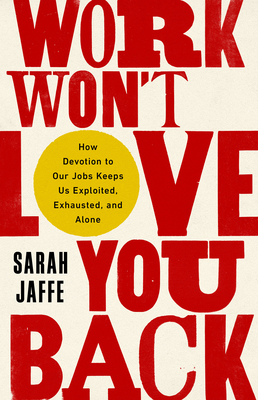 List Price: $21.99
Our Price: $18.99
(Save: $3.00 14%)
Available In Store Now (while supplies last)
Staff Reviews
---
Jaffe has written a book that traces our contemporary discounts of work to their modern foundations. SPOILER ALERT: Workers have been fighting for over 100 years, organizing around the same issues that boil down to how one creates a life of dignity while being a worker. Jaffe looks at how the consuming task of work has muscled its way into our lives by greatly appealing to our ingrained human tendency to create a life of meaning. This is engaging read is a deep criticism of "after all, if love what you do, you'll never work a day in your life." Because, let's be honest, work is work whether it's based on your morals, your passions, your talents, or it is not. 
— Danni
Description
---
A deeply-reported examination of why "doing what you love" is a recipe for exploitation, creating a new tyranny of work in which we cheerily acquiesce to doing jobs that take over our lives.

You're told that if you "do what you love, you'll never work a day in your life." Whether it's working for "exposure" and "experience," or enduring poor treatment in the name of "being part of the family," all employees are pushed to make sacrifices for the privilege of being able to do what we love.

In Work Won't Love You Back, Sarah Jaffe, a preeminent voice on labor, inequality, and social movements, examines this "labor of love" myth—the idea that certain work is not really work, and therefore should be done out of passion instead of pay. Told through the lives and experiences of workers in various industries—from the unpaid intern, to the overworked teacher, to the nonprofit worker and even the professional athlete—Jaffe reveals how all of us have been tricked into buying into a new tyranny of work.

As Jaffe argues, understanding the trap of the labor of love will empower us to work less and demand what our work is worth. And once freed from those binds, we can finally figure out what actually gives us joy, pleasure, and satisfaction.
About the Author
---
Sarah Jaffe is a Type Media Center Fellow and an independent journalist covering the politics of power, from the workplace to the streets. She is the author of Necessary Trouble: Americans in Revolt, and her work has appeared in the New York Times, the Nation, the Guardian, the Washington Post, the New Republic, the American Prospect, and many other publications. She is the cohost, with Michelle Chen, of Dissent magazine's Belabored podcast, as well as a columnist at The Progressive and New Labor Forum.
Praise For…
---
"Illuminating and inspiring…Work Won't Love You Back is ultimately an optimistic book. Jaffe is clear-eyed about all the ways employers exploit workers' goodwill, but because she has spent so much time reporting on labor actions across the world, she has also seen how workers use love to their advantage in organizing."—The New Republic

"An extremely timely analysis of how we arrived at these brutal inequalities and of some of the ways in which a deliberately atomised workforce is beginning to organise to challenge them."—The Guardian

"The book is also both structurally ambitious, combining essays on very specific industries such as domestic work, teaching, retail, nonprofits, art, academic, tech, sports, and of particular note, interns as it is a narrative feat…The most lucid moments in Jaffe's writing come in the form of her blunt redefinitions of commonplace ideas. There are several of these brilliant sentences throughout the pages: 'The labor of love, of short, is a con'; 'Charity is a relationship of power'; and 'programming, a field currently dominated by young men, was invented by a woman,' to name a few."—The Progressive

"Jaffe and the workers she interviews help us make sense of the messy tangle of emotions so many of us feel about our professional lives; when the lines are blurred between work and play, as Jaffe so astutely explains and historicizes for us, they are simply the messy tangle of emotions about our lives, full stop. The final chapter of Work Won't Love You Back is at once a brilliant contribution to the growing canon of anti-work political theory and a moving ode to human connection."—The Baffler

"The prose is crisp and compulsively readable… a deeply engaging work."
 —Indypendent

"An important, timely reminder of the meaning of work."—Los Angeles Review of Books

"By pulling apart the myth that work is love, Jaffe shows us that we can reimagine futures built on care, rather than exploitation."—Naomi Klein, author of On Fire: The Burning Case for a Green New Deal

"Jaffe's committed, on-the-ground engagement, historical range, and ferocious gathering of revolutionary thought combines to create something genuine and profound. . . . This book is a gift to its reader, and to a possible future."—Jordy Rosenberg, author of Confessions of the Fox

"Marvelously lucid, thoroughly readable, and wonderfully engaging."—Kathi Weeks, author of The Problem with Work: Feminism, Marxism, Antiwork Politics, and Postwork Imaginaries

"Sarah Jaffe's years as a labor reporter have let her see frontlines where others have failed to look. A book of rare importance."—Raj Patel, author of Stuffed and Starved: The Hidden Battle for the World Food System

"A multiplex in still life; a stunning critique of capitalism, a collective conversation on the meaning of life and work, and a discerning contribution to the demands of the future society everyone deserves."—Jane McAlevey, author of A Collective Bargain: Unions, Organizing, and the Fight for Democracy

"A much-needed intervention into a bad relation: our employment. Neoliberalism is collapsing, and you'll find no better guide to help sift through the wreckage than this book."—Greg Grandin, C. Vann Woodward Professor of History, Yale University

"A dazzling takedown of the myth of working for love, and a call to arms for workers to invest their love and solidarity not in their jobs but in each other."—Molly Crabapple, artist and author of Drawing Blood and coauthor of Brothers of the Gun

"An indispensable addition to labor journalism, labor history, and much more broadly, our understanding of what resistance looks like—and could look like—in these difficult times."—Dave Zirin, author of A People's History of Sports in the United States

"Sassy and big-hearted, learned and astute. …A stunning achievement."—Eileen Boris, Hull Professor of Feminist Studies, University of California, Santa Barbara

"Work Won't Love You Back has caused me to rethink my entire relationship to how I work and live. Read it and it will change you too."—David Dayen, author of Chain of Title and Monopolized

"It reports in depth about the ways our work and life Venn diagrams have been manipulated into something more like a single circle, and offers clues as to how we might change that. It could not be more timely."—The Progressive Populist