Confessions of a Yakuza (Paperback)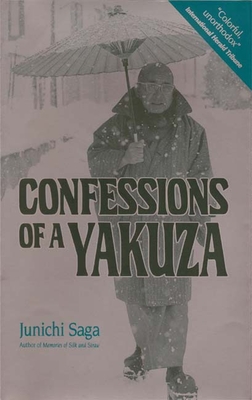 $11.95

Not In Store / Available To Order (allow for shipping time to bookstore or direct-to-home)
Description
---
This is the true story, as told to the doctor who looked after him just before he died, of the life of one of the last traditional yakuza in Japan. It wasn't a "good" life, in either sense of the word, but it was an adventurous one; and the tale he has to tell presents an honest and oddly attractive picture of an insider in that separate, unofficial world.


In his low, hoarse voice, he describes the random events that led the son of a prosperous country shopkeeper to become a member, and ultimately the leader, of a gang organizing illegal dice games in Tokyo's liveliest entertainment area. He talks about his first police raid, and the brutal interrogation and imprisonment that followed it. He remembers his first love affair, and the girl he ran away with, and the weeks they spent wandering about the countryside together. Briefly, and matter-of-factly, he describes how he cut off the little finger of his left hand as a ritual gesture of apology. He explains how the games were run and the profits spent; why the ties between members of "the brotherhood" were so important; and how he came to kill a man who worked for him.


What emerges is a contradictory personality: tough but not unsentimental; stubborn yet willing to take life more or less as it comes; impulsive but careful to observe the rules of the business he had joined.


And in the end, when his tale is finished, you feel you would probably have liked him if you'd met him in person. Fortunately, Dr. Saga's record of his long conversations with him provides a wonderful substitute for that meeting.
About the Author
---
Dr. JUNICHI SAGA is a medical doctor with a general practice in Tsuchiura, Ibaraki Prefecture, on Lake Kasumigaura. He began taping his elderly patients' reminiscences about thirty years ago when he realized what a wealth of detail and information they contained. He has published numerous works of local history and ecology, two of which are available in English: Memories of Wind and Waves and Memories of Silk and Straw. In his spare time he does ink painting.


JOHN BESTER, the translator, is one of the foremost translators of Japanese fiction. In 1990 he was given the first Noma Award for the Translation of Japanese Literature, for his English version of a short-story collection by Yukio Mishima entitled Acts of Worship.
Praise For…
---
"Vivid and accurate." —Los Angeles Times



"A wonderful storyteller with a variety of unusual experiences." —Washington Post Book World



"Packed with colorful details and insights, told straightforwardly without machismo or exaggeration... Important and entertaining." —Manoa



"This is the kind of history that rarely gets recorded... Interesting, candid, and honest." —Far Eastern Economic Review



"Memories of pain and pleasure…a witness to the past." —Le Monde



"Fascinating ... gang hierarchy, the relationship between the police and the mob, the organization of gambling sessions and of prison life." —Quadrant



"Compelling…big-hearted."—International Herald Tribune