The Hope of Floating Has Carried Us This Far (Paperback)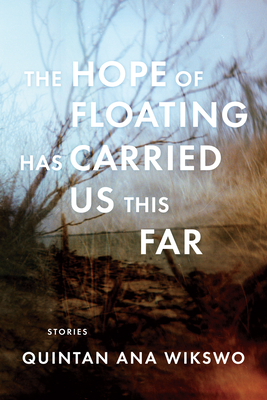 Email or call us for information about purchasing this item.
Not In Store / May Not Be Available To Order (email orders@greenlightbookstore.com for details)
Description
---
When love, lust, and longing, have all but killed you, and Newtonian physics has become too painfully restrictive, is it possible to find freedom in another dimension? Have you lost the will to live, or the will to live as human? Castaways in unmapped terrain, the characters in The Hope of Floating Has Carried Us This Far burrow underground in tunnels made by ancient nautiluses. They lay eggs by the seashore, and greet the sailors who come to carry those eggs away. And each by each, they choose to live--but to surrender their human forms. From within their peculiar neither-here-nor-there-doms, they learn to live in unbounded states, with edges that can no longer be marked, and meanings that can no longer be defined.
Quintan Ana Wikswo is a writer and visual artist recognized for adventurous works that integrate her fiction, poetry, memoir, and essay with her photographs, performances, and films. Her works are published, performed, and exhibited throughout the world, including anthologies, artist books, magazines such as Tin House, Guernica, Conjunctions, the Kenyon Review, and Gulf Coast, and in multiple solo museum exhibitions in New York City and Berlin. A human rights worker for two decades, she now uses salvaged government typewriters and cameras to navigate known, unknown, and occluded worlds, especially obscured sites where crimes against humanity have taken place. She lives in Brooklyn.

About the Author
---
QUINTAN ANA WIKSWO's work appears regularly in "Tin House, Kenyon Review, Conjunctions, Gulf Coast, Alaska Quarterly Review, Denver Quarterly," and "Folio," among other publications. She has been artist in residence in literature, visual art, film, and performance at Yaddo, Djerassi, Ebenbockhaus, Oberpfalzer Kunstlerhaus, and Can Serrat. In 2013, the Jewish Museum Berlin presented a five-month solo exhibition of her project Sonderbauten, which explores state-sponsored sexual violence against women through photographs, poetry installations, and film. Wikswo is the co-artistic director of Fieldshift Further, a transdisciplinary performance company creating new works at sites with human rights and ecological impact, and a core artist with Los Angeles-based Catalysis Projects/LA, an interdisciplinary collaborative new works company.