Streb: How to Become an Extreme Action Hero (Paperback)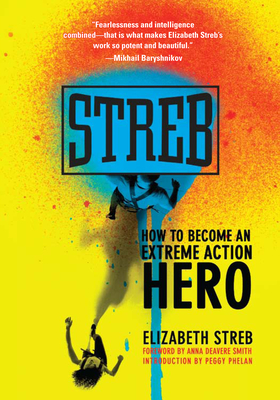 $18.95

Not In Store / Available To Order (allow for shipping time to bookstore or direct-to-home)
Description
---
An inspiring memoir and self-help guide to greatness by the dancer Mikhail Baryshnikov calls "fearlessness and intelligence combined . . . potent and beautiful."
Called "the Evel Knievel of Dance," Elizabeth Streb has been pushing boundaries and testing the potential of the human body since childhood. Can she fly? Can she run up walls? Can she break through glass? How fast can she go?
With clarity and humor--and with her internationally-renowned dance troupe STREB--she continues to investigate what movement truly is and has come to these conclusions: It's off the ground It creates impact And it hurts trying to stop
Here, Streb combines memoir and analysis to convey how she became an extreme action dancer and choreographer, developing a form of movement that's more NASCAR than modern dance, more boxing than ballet, and more than most people can handle "in this dizzying, inspirational self-help" books (Publishers Weekly, starred review).
About the Author
---
Called the Evel Knievel of dance, Elizabeth Streb intertwines the disciplines of dance, athletics, rodeo, the circus, and Hollywood stunt-work. She founded STREB in 1985, which performs internationally in theaters, museums, and town squares. She established S.L.A.M. (STREB Lab for Action Mechanics) in 2003, a factory space in Williamsburg, Brooklyn, which produces a cottage industry of extreme action performances and invites everyday people to wonder about movement, gravity, and flight.
Praise For…
---
"Fearlessness and intelligence combinedthat is what makes Elizabeth Streb's work so potent and beautiful."Mikhail Baryshnikov
"[Streb]has long been a pioneer in blending gymnastics, dance, acrobatics and sheer daredevil insanity, and many have seen her work as an exhibition of pure dance energy."New York Times
"Streb is a glorious acrobatic adventure."The Guardian
"Streb cooks up a vibrant stew that's part circus, part sporting event, part theater, part student recital, and part scrupulous time-motion-energy investigation. The neighborhood sniffs the aroma and crowds in the door."Village Voice
"Ah, finally an artist who is not afraid of handling live eels, confronting an army of rats or diving head first through a panel of glass! Elizabeth Streb also recalls carrying enormous pails of water back and forth from a river when she was 10, riding her first motorcycle at age 15, and how at 18 she once held a sheet-rock panel above her head for an entire afternoon waiting for a never-returning carpenter! In this inspiring and passionate book, ultra-tenacious Elizabeth shares with the reader some of her surrealist goals: leaving a room through the walls; never landing after jumping; and moving so fast that you stand still…Wow!"—Philippe Petit