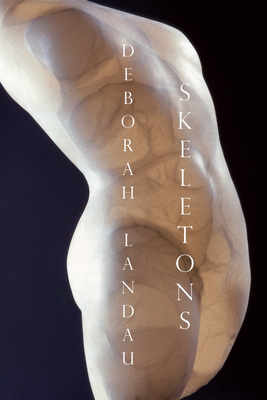 $18.00

Coming Soon - Available for Pre-Order Now
Description
---
Witty and glam, Skeletons is a prismatic collection which shrugs off even the most disillusioned nihilist with humor and intimacy.
Existentialism takes on a glamorous flair in Deborah Landau's dazzling new collection. Through a series of poems preoccupied with loneliness and mortality, Skeletons flashes with prismatic effect across the persistent allure of the flesh. Initiated during Brooklyn's early lockdown, the book reflects the increasingly troubling simultaneity of Eros and Thanatos, and the discontents of our virtual lives amidst the threats of a pandemic and corrosive politics. Spring blooms relentlessly while the ambulances siren by. Against the mounting pressure that propels the acrostic "Skeletons," a series of interstitial companion poems titled "Flesh" negotiate intimacy and desire. The collection culminates in an ecstatic sequence celebrating the love and connection that persist despite our fraught present moment. Shrugging off her own anxiety and disillusionment with characteristic humor and pitch-perfect cadence, Landau finds levity in pyrotechnic lines, sonic play, and a wholly original language, asking: "Any way outta this bag of bones?"

About the Author
---
Deborah Landau is the author of four poetry collections: Soft Targets--winner of The Believer Book Award, The Uses of the Body, The Last Usable Hour, and Orchidelirium, selected by Naomi Shihab Nye for the Robert Dana Anhinga Prize for Poetry. In 2016, she was awarded a Guggenheim Fellowship. The Uses of the Body was featured on NPR's All Things Considered, and a Spanish edition of the collection, Los Usos Del Cuerpo, was published by Valparaiso Ediciones in 2017. Landau's work appears in The New Yorker, The Paris Review, Poetry, The New York Times, and has been anthologized in The Best American Poetry. She is a professor at New York University, where she directs the Creative Writing Program.