The Trees Witness Everything (Paperback)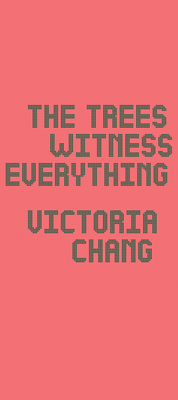 $17.00

Available In Store Now (while supplies last)
Staff Reviews
---
For lovers of the way language can flower in surprising ways under formal constraint. I picked this up because a) I was drawn in by the unique shape and b) I adored Victoria Chang's last collection Obit. Generous in its sparsity, wildly imaginative in its strict adherence to form, this collection aches and resonates. No one writes of loss with such simultaneous beauty and bluntness like Chang. And for lovers of indie presses, Copper Canyon literally never misses!!
— Chelsea
Description
---
A lover of strict form, best-selling poet Victoria Chang turns to compact Japanese waka, powerfully innovating on tradition while continuing her pursuit of one of life's hardest questions: how to let go.
In
The Trees Witness Everything,
Victoria Chang reinvigorates language by way of concentration, using constraint to illuminate and free the wild interior. Largely composed in various Japanese syllabic forms called "wakas," each poem is shaped by pattern and count. This highly original work innovates inside the lineage of great poets including W.S. Merwin, whose poem titles are repurposed as frames and mirrors for the text, stitching past and present in complex dialogue. Chang depicts the smooth, melancholic isolation of the mind while reaching outward to name--with reverence, economy, and whimsy--the ache of wanting, the hawk and its shadow, our human urge to hide the minute beneath the light.
About the Author
---
Born in Detroit, Michigan to Taiwanese immigrants, Victoria Chang was educated at the University of Michigan, Harvard University, and Stanford Business School and holds an MFA in poetry from Warren Wilson. She is the author of six books of poetry, including Obit, which was named a New York Times 100 Notable Books of 2020 and included on Time Magazine's 100 Must-Read Books of 2020. She lives in Southern California with her family and serves as the Program Chair of Antioch's Low-Residency MFA Program.