Magic of the Ordinary: Recovering the Shamanic in Judaism (Paperback)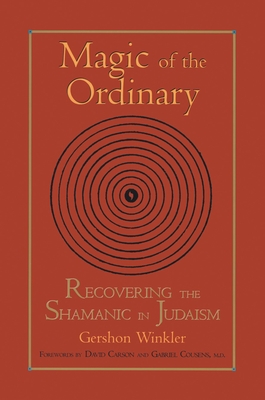 $15.95
Email orders@greenlightbookstore.com for information about this item.
Description
---
A spiritual crisis sent Orthodox rabbi Gershon Winkler to remote regions of the Southwest, where he studied with Native American healers. From them he began to recover the long-lost wisdom of what he calls "Aboriginal Judaism": the religion's tribal roots. This book tracks his personal journey and draws from a dazzling mix of sources to detail the surprising connections between two seemingly unrelated religions.
About the Author
---
Rabbi Gershon Winkler, initiated into Jerusalem by the late Kabbalist Rabbi Eliezer Benseon, has devoted his energy over the past decade to reviving and making more accessible the aboriginal elements of Judaism. A frequent lecturer and workshop facilitator in the United States and Israel, Winkler is both a student and practitioner of this lesser-studied dimension of ancient Jewish mystery tradition. He is the author of eleven books on Jewish mysticism, philosophy, and folklore. He lives with his family in the remote wilderness of San Miguel, New Mexico, where he runs the Walking Stick Foundation and Retreat Center.
Praise For…
---
"Jewish shamanism? Jewish sorcery? Jewish magical healing? What would Aunty Fanny say? But it's all here in Magic of the Ordinary, in which Rabbi Gershon Winkler with wit and wisdom leads us to rediscover the more paganistic and pantheistic mysteries underlying the ancient Hebrew tradition. I highly recommend this book."
—Andrew Weil, M.D., author of Spontaneous Healing and Eating Well for Optimum Health

"Gershon Winkler's brilliance shines a light on the buried shamanic practices of Judaism. Magic of the Ordinary is a treasure—I loved it and was deeply inspired by it."
—Sandra Ingerman, author of Soul Retrieval and Medicine for the Earth

"His refreshing translations of Biblical passages restore an elemental force to the Hebrew. His book Magic of the Ordinary is chock-full of extraordinary material from the Talmud, the Midrash, and the Zohar."
—London Jewish Chronicle (December 26, 2003)

"Winkler's picture of archaic Judaism diverges sharply from the contemporary image of the 'Judeo-Christian tradition.'…By bringing to light the long-hidden teachings of Jewish shamanism, Winkler has opened a way for Jews to look within their own spiritual heritage for the shamanic teachings that previously seemed to be available only within other traditions.  …Moreover, because Magic of the Ordinary serves to redefine the contemporary picture of aboriginal Judaism, this book may appeal to a more general readership, and it should be of interest to many students of religion and cross-cultural shamanism."
—Roberta Lous, Shaman's Drum (Number 66)

"There's an old Native American saying: 'If it doesn't grow corn, what good is it?'
Gershon Winkler grows corn. He's like a laughing Buddha or a Native American coyote trickster; passionate but not serious. He is the friend of Spider, Magpie, and Lizard. He lives with storms. [Magic of the Ordinary] is truly a masterful compendium of ancient Hebraic wisdom."
—David Carson, Choctaw Elder, author of Crossing into Medicine Country and co-author of Medicine Cards: The Discovery of Power Through the Ways of Animals and Oracle: 2013