She Would Be King: A Novel (Hardcover)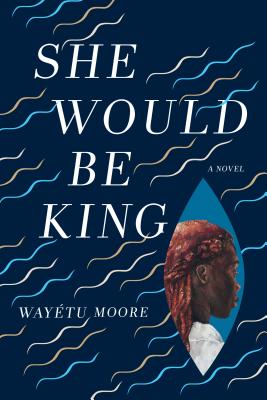 $26.00
Email orders@greenlightbookstore.com for information about this item.
September 2018 Greenlight First Editions Club Selection
September 2018 Indie Next List
---
"It's hard to describe a novel as wholly original as She Would Be King. A retelling of the birth of Liberia through interconnected stories, the novel combines history, magic, and myth in one engrossing story. Moore's novel takes you from West Africa to the plantations of Virginia, from Jamaica to Liberia, weaving together the stories of three characters who yearn for power and true freedom. Guided by the ancient wind, all of Moore's characters challenge and transcend the many faces of oppression, and the story's profound culmination will leave you in awe. She Would Be Kingis the kind of novel that lingers with you for days. A must-read!"
— Morgan McComb, Raven Book Store, Lawrence, KS
Winter 2019 Reading Group Indie Next List
---
"She Would Be King is a rich and enchanting tale, a strikingly original and perfectly executed blend of historical fiction and magical realism. Through an utterly unique narrative perspective, Wayétu Moore presents us with a far-reaching and multifaceted story revolving around the Atlantic slave trade and the formation of Liberia. Yet another excellent, boundary-pushing, bar-raising debut from Graywolf Press."
— Sean Fitzgerald, Village Lights Bookstore, Madison, IN
Description
---
A novel of exhilarating range, magical realism, and history—a dazzling retelling of Liberia's formation
Wayétu Moore's powerful debut novel, She Would Be King, reimagines the dramatic story of Liberia's early years through three unforgettable characters who share an uncommon bond. Gbessa, exiled from the West African village of Lai, is starved, bitten by a viper, and left for dead, but still she survives. June Dey, raised on a plantation in Virginia, hides his unusual strength until a confrontation with the overseer forces him to flee. Norman Aragon, the child of a white British colonizer and a Maroon slave from Jamaica, can fade from sight when the earth calls him. When the three meet in the settlement of Monrovia, their gifts help them salvage the tense relationship between the African American settlers and the indigenous tribes, as a new nation forms around them.
Moore's intermingling of history and magical realism finds voice not just in these three characters but also in the fleeting spirit of the wind, who embodies an ancient wisdom. "If she was not a woman," the wind says of Gbessa, "she would be king." In this vibrant story of the African diaspora, Moore, a talented storyteller and a daring writer, illuminates with radiant and exacting prose the tumultuous roots of a country inextricably bound to the United States. She Would Be King is a novel of profound depth set against a vast canvas and a transcendent debut from a major new author.
About the Author
---
Wayétu Moore is the founder of One Moore Book and is a graduate of Howard University, Columbia University, and the University of Southern California. She teaches at the City University of New York's John Jay College and lives in Brooklyn.
Praise For…
---
"Moore skillfully reconsiders the idealism of the early African-American settlers through their interactions with the indigenous peoples and braids together intimate story lines centered around universal themes: falling in love, defying familial expectations and the difficulties of doing the right thing."—The New York Times
"[A] bold de´but. . . . The force and the symbolism of myth pervade Moore's engrossing tale."—The New Yorker
"Reading Wayétu Moore's debut novel, She Would Be King, feels a lot like watching a superb athlete's performance. . . . Moore makes deft use of magical realism, and her plot and its details are compelling. . . . Like her remarkable protagonist Gbessa, the author has tapped into her own backstory–and emerged with literary superpowers."—TIME
"This compelling debut novel by Wayétu Moore blends historical fiction with magical realism in an exhilarating tale of the formation of Liberia. Moore effortlessly weaves the threads of indigenous West African tribes, American and Caribbean slavery, and British colonialism together to tell the creation story of a new nation, complete with unforgettable characters and a dynamic voice."—Marie Claire
"Hotly anticipated. . . . A breathtaking retelling of the founding of Liberia. . . . Wayétu Moore's magical realism can make anyone believe in how connected humans are to the world around them."—Glamour
"Fans of Gabriel Garcia Marquez will be intrigued by this debut novel, a reimagining of Liberia's infancy in the 19th century."—Harper's Bazaar
"In She Would Be King, debut novelist Wayétu Moore reimagines Liberia's past, building a world so clear and evocative you would swear you were in it."—BuzzFeed
"Moore's debut unflinchingly depicts the convergence of brutal forces—colonialism, the slave trade—while brushing it with a glimmer of magic."—HuffPost
"Moore's vivid characters, beguiling language and powerful subject matter engage us thoroughly. The book is unforgettable."—Star Tribune (Minneapolis)
"Moore veers from fantasy to lush descriptions and sharp characterization, shedding light on the fleeting moment when the vast African diaspora reversed itself."—Vulture
"Stunning. . . . It is an epic narrative, weaving together themes of diasporic conflict, the legacy of bondage, isolation, and community, and it offers a transcendent, important look at the ways in which the past is never fully behind us, and instead echoes throughout everything we do."—NYLON
"Moore skillfully blends historical fiction with magical realism in this immersive interpretation of Liberia's roots."—BUST
"This dynamic novel leaves you both satisfied and full of anticipation for what's to come, in fiction and in reality."—The Rumpus
"Moore's debut is magnetic."—Santa Fe New Mexican
"Women everywhere will find themselves admiring the powerful Gbessa in She Would Be King."—PopSugar
"Moore's insightful, emotional descriptions graft these stories right onto readers' hearts ."—BookPage
"Composed and compelling, brimming with devastating truths and sparkling with ferocity, this is a masterpiece of a debut."—BookReporter.com
"The dialog is fluid and poetic, allowing readers to imagine the events, sights, smells, feelings, and sensations. As with Yaa Gyasi's Homegoing, this work will appeal to lovers of African, African American, and literary fiction."—Library Journal, starred review
"Moore uses an accomplished, penetrating style—with clever swerves into fantasy—to build effective critiques of tribal misogyny, colonial abuse, and racism."—Publishers Weekly
"An ambitious, genre-hopping, continent-spanning novel. . . . Moore is a brisk and skilled storyteller who weaves her protagonists' disparate stories together with aplomb yet is also able to render her sprawling cast of characters in ways that feel psychologically compelling. In addition, the novel's various settings—Virginia, Jamaica, and West Africa—are depicted so lushly that readers will find themselves enchanted."—Kirkus Reviews