On Immunity: An Inoculation (Paperback)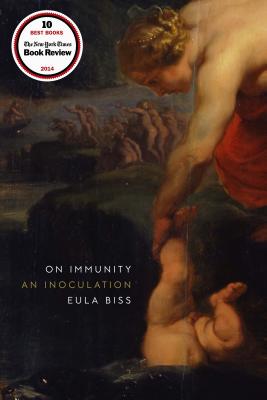 Staff Reviews
---
There was a brief period last year where my sister toyed with the idea of not vaccinating my niece (ultimately, she did). New mothers grapple with the same fear, it seems: one of contamination—of failing in salubrity and, therefore, motherhood. New mother Eula Biss shared these fears and chose to investigate: In turns tender and tough, Biss dispels the myths of the anti-vaxx movement and reveals how they erode not just our trust in medicine, but our trust in each other. Fear is infectious, but so is knowledge. Take a deep breath. This'll only hurt for a second.
Picked by Austin in Prospect Lefferts Gardens
October 2014 Indie Next List
---
"Biss' essays about the immunization debate range from the personal to the body politic and back again. Drawing on her experiences as a mother and employing an astonishing diversity of sources, Biss plumbs our ancient fear of infection. Acknowledging the permeability of both our borders and bodies, she arrives at the conclusion that 'immunity is a shared space-a garden we tend together.' Biss' precise language and wry humor make On Immunity as engaging as it is informative."
— Brooke Alexander, Brazos Bookstore, Houston, TX
Description
---

The hugely acclaimed New York Times Best Seller, now available in paperback!

*A National Book Critics Circle Award Finalist*

ONE OF THE BEST BOOKS OF 2014:
The New York Times Book Review (Top 10), Entertainment Weekly (Top 10), New York Magazine, Chicago Tribune (Top 10), Publishers Weekly (Top 10), Time Out New York (Top 10), Los Angeles Times, Kirkus, Booklist, NPR's Science Friday, Newsday, Slate, Refinery 29, and many more...

In this bold, fascinating book, Eula Biss addresses our fear of the government, the medical establishment, and what may be in our children's air, food, mattresses, medicines, and vaccines. Reflecting on her own experience as a new mother, she suggests that we cannot immunize our children, or ourselves, against the world. As she explores the metaphors surrounding immunity, Biss extends her conversations with other mothers to meditations on the myth of Achilles, Voltaire's Candide, Bram Stoker's Dracula, Rachel Carson's Silent Spring, Susan Sontag's AIDS and Its Metaphors, and beyond. On Immunity is an inoculation against our fear and a moving account of how we are all interconnected-our bodies and our fates.
About the Author
---
EULA BISS is the author of The Balloonists. She teaches nonfiction writing at Northwestern University and is co-editor of Essay Press. Her essays have appeared in Harper's and The Believer. She lives in Chicago.
Praise For…
---
"Subtle, spellbinding . . . Sontag said she wrote Illness as Metaphor to 'calm the imagination, not to incite it,' and On Immunity also seeks to cool and console . . . [Biss] advances from all sides, like a chess player, drawing on science, myth, literature to herd us to the only logical end, to vaccinate." —Parul Sehgal, The New York Times Book Review

"By exploring the anxieties about what's lurking inside our flu shots, the air, and ourselves, [Biss] drives home the message that we are all responsible for one another. On Immunity will make you consider that idea on a fairly profound level." —Entertainment Weekly (Grade: A)

"On Immunity . . . weaves metaphor and myth, science and sociology, philosophy and politics into a tapestry rich with insight and intelligence." —Jerome Groopman, The New York Review of Books

"A philosophical look at the history and practice of vaccination that reads like Joan Didion at her best. If you are yourself a nonfiction author, your initial response to this book might be to decide immediately on another line of work; Biss is that intimidatingly talented . . . .This is cultural commentary at its highest level, a searching examination of the most profound issues of health, identity and the tensions between individual parenting decisions and society." —The Washington Post

"[An] elegant, intelligent and very beautiful book, which occupies a space between research and reflection, investigating our attitudes toward immunity and inoculation through a personal and cultural lens." —Los Angeles Times