All That Shines (Hardcover)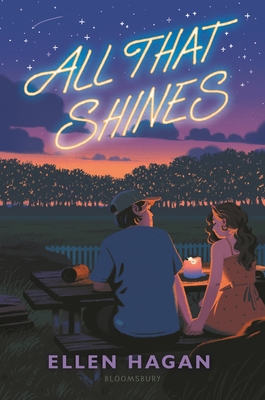 $19.99

Not In Store / Available To Order (allow for shipping time to bookstore or direct-to-home)
Description
---
A contemplative novel in verse that questions what it means to lose everything you once treasured and rediscover yourself, falling in love along the way.

Chloe Brooks has only ever known what it's like to have everything. Her parents' wealth and place in society meant she had all she wanted, and friends everywhere she turned. Until it all crashes down: Her father is arrested in the middle of the night, under investigation for fraud.

Bankrupt and facing foreclosure, Chloe must forgo her lavish summer plans as she and her mom are forced to move into one of the rundown apartments they still own, just outside Lexington, Kentucky. Without her riches, Chloe loses her friends, her comfort, her confidence, and her sense of self, unsure of who she is and if she has anything to offer.

Then Chloe's new neighbors, Clint, Skye, James, and Natalia, introduce her to the side of Kentucky she's long ignored. These new friends are the only ones who see her for who she truly is, but will they stay by her side once they discover her family's true identity, or will Chloe lose them, too?

In her signature captivating verse, Ellen Hagan encapsulates the hesitant joy of reshaping your identity and rediscovering yourself.
About the Author
---
Ellen Hagan is a writer, performer, and educator. Her poetry collections include: Hemisphere and Crowned. Her work can be found in ESPN Magazine, She Walks in Beauty and Southern Sin. She is the recipient of a NoMAA Creative Arts Grant and received grants from the Kentucky Foundation for Women and the Kentucky Governor's School for the Arts. National arts residencies include The Hopscotch House and Louisiana Arts Works. Ellen is the Director of the Poetry & Theatre Departments at the DreamYard Project and directs their International Poetry Exchange Program with Japan, South Korea and the Philippines. She co-leads the Alice Hoffman Young Writer's Retreat at Adelphi University.
www.ellenhagan.com; @ellenhagan
Praise For…
---
"If you want to read something that will break your heart with poetry and then make it feel like you're falling in love on the cool bluegrass under a warm Kentucky summer night sky, All That Shines is the book for you." —Jeff Zentner, award-winning author of THE SERPENT KING and IN THE WILD LIGHT

"In evocative and poignant language, Ellen Hagan captures the beauty of community and the budding aspects of young love with delicate poetry, but it's her gorgeous backdrop of a sprawling Kentucky that truly makes this novel-in-verse stand out. All That Shines delves into the ugliness of privilege and the power of renewal with Kentucky's rich landscape and music as a soundtrack, cementing this novel's place among the classics." —Lilliam Rivera, author of Pura Belpré Honor book NEVER LOOK BACK

"Hagan (Don't Call Me a Hurricane) utilizes sensate verse to summarily cover hefty topics including financial precarity and privilege, as well as adeptly cultivate a sense of place that proves lively and immersive." —Publishers Weekly

"Highlighting Chloe's insecurity, shame, and increasing self-awareness, the book elicits readers' empathy as she struggles, learns, and develops a newfound sense of self. A bitter start leads to a sweet conclusion." —Kirkus Reviews

"When I read Don't Call Me a Hurricane with my niece she said: 'a climate change activist love story in verse?! Yes, please.' We both loved taking this journey with Eliza Marino. It is a salve and good company for all of us grappling with uncertainty as we traverse these challenging times." —Angie Cruz, award-winning author of DOMINICA, on DON'T CALL ME A HURRICANE

"Urgent and romantic, Don't Call Me a Hurricane beautifully demonstrates the strength of community and the power of love." —Brandy Colbert, award-winning author of THE VOTING BOOTH, on DON'T CALL ME A HURRICANE

"The way Hagan writes about the land is the way she writes about love--with passion, humanity, and clarity. This book carried me away." —Olivia A. Cole, author of THE TRUTH ABOUT WHITE LIES, on DON'T CALL ME A HURRICANE