A Basic Introduction to Criminal Justice (Aspen Criminal Justice) (Paperback)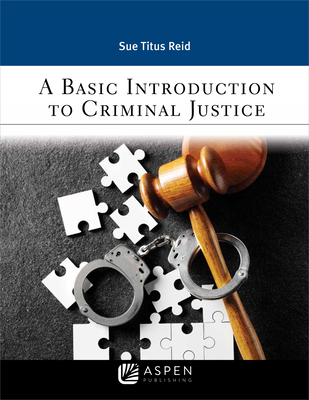 Click on "Ask A Bookseller" to contact us via email for more information about this title.
Description
---
Impeccably researched by author Sue Titus Reid, A Basic Introduction to Criminal Justice is the essential text for introducing the U.S. criminal justice system to future law enforcement professionals. The coverage balances basic concepts and theory against cutting-edge law that fuels class discussion. Examples taken from real events illustrate the criminal justice system in action. Each chapter has been skillfully formatted to enrich learning and facilitate study.
Timely topics covered include:
Introductory topics in Chapter One are illustrated with references to recent crimes and discussion of issues raised by courts in recent cases, such as those involving whether police should be permitted to seize and search the cell phones of those they arrest.
Latest statistics throughout the text, including the most recently available FBI crime data.
Recent developments in the area of immigration.
Discussion of crimes on U.S. campuses and universities that are under investigation amid allegations that officials do not properly investigate sexual assault.
Recent cases on search and seizure, including State v. Mitchell.
Chapter 5 features a Spotlight presenting the mission statement of the Police Officers' Lives Matter and well as that of Black Life Matters.
Chapter 6 discusses recent U.S. Supreme Court appointments, including the controversies surrounding nominations.
Chapter 7's discussion of ineffective assistance of counsel includes new Supreme Court cases, including Garza v. Idaho.
Current coverage of the issue of racial prejudice in sentencing.
Discussion of the bipartisan bill on criminal justice reform that passed the Congress and was signed into law in late 2018.
Chapter 9 includes thoughtful coverage of women in prison and an enhanced discussion of the children of inmates. In addition, this chapter has timely coverage on private prisons.
Coverage of the death penalty, including moratorium on executions in California.
Up-to-date chapter on Juvenile Justice, including current information on juvenile correctional facilities and the 2018 passage of the Reauthorization of the Juvenile Justice and Delinquency Prevention Act.
Professors and students will benefit from:
A concise overview of the Criminal Justice System
Systematic coverage, including sections on:

Policing
Criminal Court Systems
Corrections
Juvenile Justice

Examples that connect theory to current events and debate
Integrated discussion of court decisions, accurately interpreted and cited
Dynamic pedagogy in every chapter:

End-of-chapter summary and study questions
Learning Objectives
Chapter Outlines and Overviews
Key terms, defined in a comprehensive glossary

Tables, figures, and photographs, and Spotlights that highlight timely issues
Author's meticulous attention to including the most recent information on topics covered.