Sunset Empire (Hardcover)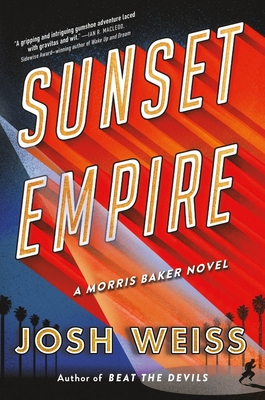 $28.00

Not In Store / Available To Order (allow for shipping time to bookstore or direct-to-home)
Description
---
The Korean War rages on in this thrilling alternate history sequel to Beat the Devils: Morris Baker, now a private investigator, must solve a missing persons case in the midst of an endless battle.

December, 1959: The Korean War rages on.

Protesting the bloody conflict, a Korean-American man by the name of William Yang suddenly blows himself up in the middle of a Los Angeles department store just before Christmas, which leads the U.S. government to reopen the internment camps used during World War II. President Joseph McCarthy's America has never been more on edge, paranoid, and above all, dangerous.

Several weeks later, a woman hires Morris Baker, now working as a private investigator, to track down her missing husband — Henry Kissinger — who may have a shadowy connection to Yang's purported terrorist attack. The ensuing investigation for the missing State Department consultant working for Vice President Richard Nixon sends Baker on another thrilling adventure of deceit, intrigue, sex, murder, and conspiracy where the safety of the entire world may hang in the balance.
About the Author
---
Josh Weiss is an author from South Jersey. Raised in a proud Jewish home, he was instilled with an appreciation for his cultural heritage from a very young age. Today, Josh is utterly fascinated with the convergence of Judaism and popular culture in film, television, comics, literature, and other media. After college, he became a freelance entertainment journalist, writing stories for SYFY WIRE, The Hollywood Reporter, Forbes, and Marvel Entertainment. He currently resides in Philadelphia with his incredible wife, Leora; their adorable Cavapoo, Archie; as well as an extensive collection of graphic T-shirts, movie posters, vinyl records, and a few books, of course.
Praise For…
---
"Another clever collision between history and what-might-have-been, but this time with the USA's misadventures in East Asia and Indochina swept into the geopolitical storm. A gripping and intriguing gumshoe adventure laced with gravitas and wit."—Ian R MacLeod, Sidewise Award-winning author of Wake Up and Dream

"To my delight, this book surpassed Beat the Devils. Sunset Empire kept me guessing and I enjoyed all of the story's twists and turns. If you love noir, crime stories, hard-nosed detectives, history, and alternate reality, then this book is for you. Although it's a work of fiction, Sunset Empire is very prescient to what's currently happening in the world. I'm ready for more Morris Baker stories!"—Michael Kronenberg Artist, Graphic Designer Film Noir Foundation/NOIR CITY Magazine

"Bright, terrifying, alternate-fiction-that-could-be fact, detective Morris Baker returns full force to the scene of a brand-new crime. Pick up Sunset Empire, and you won't put it down until the very last word."—Paul Lally, author of the Amerika and Rise Again trilogies

Josh's writing is beautifully visual, with characters so perfectly realized, that his melding of real history and fiction takes on a poignancy that transcends the 'What If?' genre and makes you worry, 'What If Again?'. I can't wait for another Morris Baker case!—Ben Parker, writer/director of Burial & The Chamber

"Clever… As a practicing Jew—and a guilt-ridden one to boot—Baker is a rarity in crime fiction."—Kirkus Reviews

"In Weiss's superb sequel... Imaginative worldbuilding enhances the page-turning mystery plot. Fans of Robert Harris's Fatherland will be enthralled."—Publishers Weekly, starred review

"The ending is so powerful one looks away from the page."—Booklist

Praise for Beat the Devils——

"Reading Josh Weiss's debut novel feels like riding shotgun with a friend who's driving expertly through a winter storm... Weiss creates palpable emotional depth, particularly for Baker, whose yearslong tactic of burying trauma has stopped working."—New York Times Book Review

"Beat The Devils by Josh Weiss blew me away. A brilliant alternate history, a riveting fifties-era noir crime caper, and an edge of your seat thriller—all wrapped into one! This is a stunning novel that takes readers for a mind-bending ride with elements that seem shockingly relevant in our current day and age."—Mark Greaney #1 NYT Bestselling Author of The Gray Man

"Tight, well-paced, inventive, and inspirational, Weiss' splendid debut is classic noir tinged with the slightest pinch of science fiction; readers can thrill to the bits of dissonant history they recognize, even as they revel in the mayhem and suspense that permeate the text."—Mystery Scene Magazine

"Josh Weiss has announced himself as a bold new voice in the world of pulp noir fiction. One part Raymond Chandler, one part Philip Roth, a dash of Ben Hecht — and you're about halfway there."—J.D. Lifshitz, co-founder of BoulderLight Pictures and producer of The Vigil

"Alternate histories are difficult to craft, but the world of Beat the Devils is built with hair-raising perfection. Weiss holds a warped mirror to the American Dream — revealing dark undercurrents thread through with troubling, yet true, history. I couldn't turn the pages fast enough!"—Ryan Graudin, award-winning author of Wolf by Wolf

"Thrillers involving the 1950s and an L.A. police detective are close to being a dime-a-dozen, but not so with Josh Weiss's superb Beat the Devils. It takes place in 1958 Los Angeles, but very different from our own history, beginning with the shocking twist that the President of the United States is former Wisconsin Senator Joe McCarthy. Instead of the relative peace and prosperity of the Eisenhower years, we're in the nightmare that is the McCarthy years, filled with Communist hunts among government agencies, businesses, and the media, as well as a secret police arresting and sometimes executing those suspected of disloyalty. Into this richly plotted and detailed novel is Detective Morris Baker, a Holocaust survivor who must navigate the dangerous times of this place, where Jews are second-class citizens, subject to pogroms and violence. A murder involving a prominent journalist and a famed film director sets him on a course of suspicion, betrayal, and double-crosses against a background of deep paranoia and permanent war. A remarkable achievement."—Brendan DuBois, award-winning and New York Times bestselling author of Resurrection Day and Amerikan Eagle