Restoring Family Connections: Helping Targeted Parents and Adult Alienated Children Work Through Conflict, Improve Communication, and Enhance Relati (Hardcover)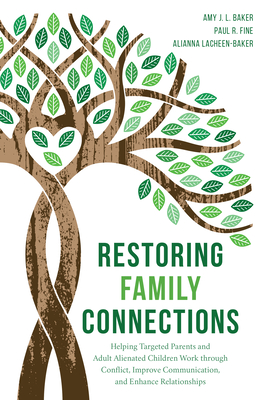 $80.00
Email orders@greenlightbookstore.com for information about this item.
Description
---
Broken relationships between adult children and their parents is a widespread phenomenon. While the parent-child attachment relationship is of critical importance for the child in the early years of life, the parent-child relationship continues to be a source of great importance over the course of the individual's life span for both the child and the parent. For adults and adult children who are estranged/alienated from each other, the pain and dissatisfaction never fully go away. Despite the prevalence of the problem of ruptured relationships, there are few resources available for mental health professionals working with this population. This book provides a tool for clinicians to turn to when they are working with adult children and their parents seeking to resolve conflict, improve communication, and enhance their relationships.
About the Author
---
Dr. Amy J.L. Baker is a leading national expert in the field of parental alienation. She is the author or co-author of 8 books and over 115 articles, many in peer reviewed publications. She has trained judges, attorneys, clinicians, and the lay public on parental alienation and emotional abuse to audiences around the world. She has been interviewed by the New York Times, CNN, Good Morning America, Newsweek, the AP, NPR, and numerous other media outlets. Paul R Fine is a licensed clinical social worker with extensive experience providing psychotherapy to children, teens, and adults dealing with a range of personal issues. Alianna LaCheen-Baker is a LPN with experience working with alienated children and families.