The Art of the Pimp: One Man's Search for Love, Sex, and Money (MP3 CD)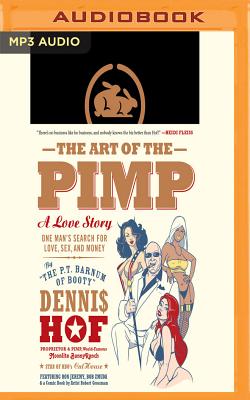 $19.99
Email orders@greenlightbookstore.com for information about this item.
Description
---
Dennis Hof, proprietor of the world-famous Moonlite Bunny Ranch brothel and the P.T. Barnum of prostitution, charts his path to fame and infamy, while dispensing homespun wisdom about sex, sales, money, and how to live as the country's most recognizable pimp. In The Art of the Pimp, Dennis Hof offers a hilarious, insightful, behind-the-scenes look at life as the proprietor of The Moonlight Bunny Ranch, the world's most famous legal brothel, and recounts his chaotic life as the king of America's sex industry. Hof, the star of HBO's critically lauded series Cathouse, reveals the tricks of turning tricks, the secrets of his outrageous marketing stunts, and scandalous details of his friendships with porn stars, prostitutes, and politicians. Listeners will learn how Hof's "girls" negotiate the highest prices for sex, the dirty little secrets of getting men to fall in love with them, and the inside tales of "The Girlfriend Experience," the number one requested menu item. The Art of the Pimp will take listeners on a wild ride through his countless sexual conquests, romantic failures, and business successes.