The Great Gatsby: A Graphic Novel Adaptation (Paperback)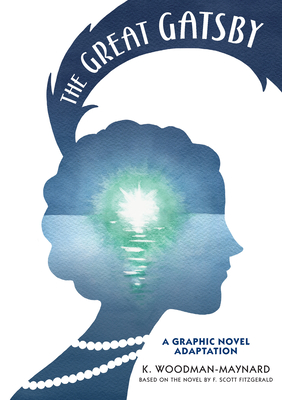 $14.99

Not In Store / Available To Order (allow for shipping time to bookstore or direct-to-home)
Description
---
A sumptuously illustrated adaptation casts the powerful imagery of F. Scott Fitzgerald's great American novel in a vivid new format.

From the green light across the bay to the billboard with spectacled eyes, F. Scott Fitzgerald's 1925 American masterpiece roars to life in K. Woodman-Maynard's exquisite graphic novel—among the first adaptations of the book in this genre. Painted in lush watercolors, the inventive interpretation emphasizes both the extravagance and mystery of the characters, as well as the fluidity of Nick Carraway's unreliable narration. Excerpts from the original text wend through the illustrations, and imagery and metaphors are taken to literal, and often whimsical, extremes, such as when a beautiful partygoer blooms into an orchid and Daisy Buchanan pushes Gatsby across the sky on a cloud.

This faithful yet modern adaptation will appeal to fans with deep knowledge of the classic, while the graphic novel format makes it an ideal teaching tool to engage students. With its timeless critique of class, power, and obsession, The Great Gatsby Graphic Novel captures the energy of an era and the enduring resonance of one of the world's most beloved books.
About the Author
---
K. Woodman-Maynard is a graphic novelist and graphic designer who works in a combination of digital and traditional mediums. She is co-creator of TKAMI: Talk to Kids About Mental Illness (TKAMI.org), a free resource for helping adults talk to kids about mental illness through comics. She studied animation at Harvard and worked as an animator in San Francisco before moving into comics and design. K. Woodman-Maynard is a native of Minnesota. She loves to experiment in the kitchen and hit the trails by ski or foot.
Praise For…
---
The book is rendered in luxe colors of rose, gold, amethyst and aquamarine, making us feel as though we're watching the events of F. Scott Fitzgerald's 1925 novel through gems held up to the light ... readers ages 14 and older will find it hugely rewarding.
—The Wall Street Journal

...Woodman-Maynard uses muted single-color panels and pages to communicate the different moods of the story, from excessive parties to melancholy remembrances...Woodman-Maynard chooses to turn many metaphors into literal drawings, adding to the heightened euphoria of Gatsby's parties. Although most readers will know the story, Woodman-Maynard's artwork brings a new perspective to the character's histories and actions...This adaptation deftly pays homage to Fitzgerald's iconic phrases through the artwork and pushes readers to question Nick's status as narrator.
—Booklist

Debut graphic novelist Katharine Woodman-Maynard has done an admirable job of adapting and illustrating F. Scott Fitzgerald's classic novel of love lost...This adaptation of the book would be fantastic to use with a class as an imaginative overview to introduce the novel or as means to differentiate reading options. Used either way, it should generate lively discussion!
—School Library Connection

Synesthetes will delight as the Roaring Twenties come alive in mellifluous watercolors informed by both period ephemera and pure imagination. As visual metaphors wash over the page, fascinating experiments with figure and ground toggle between ­surrealism and pitiless reality. Snippets of text blend paraphrase and direct quotation, and key lines—the sort found in study guides—­appear verbatim. Like other graphic novelizations of canonical works, this adaptation explicitly intended to serve an auxiliary role stands as its own immersive accomplishment.
—School Library Journal

K. Woodman-Maynard's The Great Gatsby: A Graphic Novel Adaptation is particularly inventive. Her watercolour painting gives the entire book a dreamlike quality. The layout changes often, with regular double-page splashes: characters, emotions and scenes that seem too much for regular panels.
—The Times Literary Supplement (UK)

The Great Gatsby is a faithful version of Fitzgerald's story, with new insights that come from the merging of the written word and graphic arts—the mark of a successful adaptation."
—Foreword Reviews

Experience the great American novel as you've never seen it before. With excerpts from the original text and stunning illustrations throughout, this graphic novel makes the iconic book accessible to a whole new generation of readers.
—Brightly