Zonia's Rain Forest (Hardcover)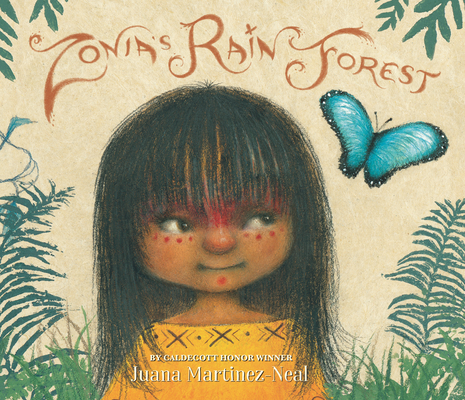 $17.99

Available In Store Now (while supplies last)
Description
---
A heartfelt, visually stunning picture book from Caldecott Honor and Robert F. Sibert Medal winner Juana Martinez-Neal illuminates a young girl's day of play and adventure in the lush rain forest of Peru.

Zonia's home is the Amazon rain forest, where it is always green and full of life. Every morning, the rain forest calls to Zonia, and every morning, she answers. She visits the sloth family, greets the giant anteater, and runs with the speedy jaguar. But one morning, the rain forest calls to her in a troubled voice. How will Zonia answer?
Acclaimed author-illustrator Juana Martinez-Neal explores the wonders of the rain forest with Zonia, an Asháninka girl, in her joyful outdoor adventures. The engaging text emphasizes Zonia's empowering bond with her home, while the illustrations—created on paper made from banana bark—burst with luxuriant greens and delicate details. Illuminating back matter includes a translation of the story in Asháninka, information on the Asháninka community, and resources on the Amazon rain forest and its wildlife.
About the Author
---
Juana Martinez-Neal is the Peruvian-born daughter and granddaughter of painters. Her debut as an author-illustrator, Alma and How She Got Her Name, was awarded a Caldecott Honor and was published in Spanish as Alma y cómo obtuvo su nombre. She also illustrated La Princesa and the Pea by Susan Middleton Elya, for which she won a Pura Belpré Illustrator Award, Babymoon by Hayley Barrett, Swashby and the Sea by Beth Ferry, and Fry Bread: A Native American Family Story by Kevin Noble Maillard, which won a Robert F. Sibert Medal. Juana Martinez-Neal lives in Connecticut with her family. Visit her online at www.juanamartinezneal.com.
Praise For…
---
This book isn't just about the Peruvian Amazon, it literally is the Peruvian Amazon: Its illustrations were created on paper made from banana bark by women living in the village of Chazuta. Its delightfully impish main character is Asháninka, the area's largest Indigenous group. . . . But what truly makes it stand out is its message of self-determination: These Indigenous people, Martinez-Neal has written, are "not saved but take charge.
—The New York Times Book Review

In her first solo project since her Caldecott Honor–winning Alma and How She Got Her Name (2018), Martinez-Neal presents a tale that is both celebratory and cautionary in nature. . . Martinez-Neal's rounded, soft-textured illustrations are wonderfully inviting and involve linocut and woodcut leaves and fronds printed on natural banana-bark paper. Amid these varied greens, Zonia shines in her marigold tunic, as do many of the warmly or brightly colored animal friends she visits; young readers will enjoy finding the blue butterfly in every spread and learning the names of the rain forest creatures, which are identified in the back matter. The text is kept to two short sentences per double-page spread, reflecting Zonia's uncomplicated and innocent view of the world, which is shaken when she stumbles upon a large section of clear-cut forest. This scene is Martinez-Neal's call to action for her readers.
—Booklist (starred review)

Zonia, a young Asháninka girl living in the Amazon rainforest begins her days with a walk through the lush forest and greeting all her animal friends. . . On her way home, the young Indigenous girl stumbles upon a patch that has been a victim of deforestation. Frightened, she decides she must answer the call to protect her home. . .This beautiful look at a young girl's life and her determination to save her home is a perfect read for young environmentalists.
—School Library Journal (starred review)

In Juana Martinez-Neal's Zonia's Rain Forest, super-cute critters are out in full force. . .A girl who lives in the rain forest begins each day by greeting her animal friends in this exuberant picture book crowned with an environmental message.
—Shelf Awareness

In wispy mixed-media art that includes linocuts on banana bark paper, Martinez-Neal introduces Zonia's friends, the animals of the Amazon—blue morph butterflies, river dolphins, sloths, and more—who interact with the child in their shared home. . . Further supporting this striking look at the way environmental destruction disenfranchises Indigenous communities, back matter contextualizes the final images and, alongside material about life in the Amazon, includes a translation of the text into Asháninka.
—Publishers Weekly

A young Asháninka girl in the Peruvian rain forest enjoys exploring her surroundings—until one day she sees something that frightens her. . . Sweet illustrations done on handmade banana-bark paper depict a spunky and happy brown-skinned child with high cheekbones and long black hair flying in the wind.
—Kirkus Reviews

The illustrations are made with woodcut prints and drawn with ink and pencils on homemade banana leaf paper. They are gentle, joyful illustrations with a blue butterfly following Zonia throughout the story. The end of the book includes information on the Ashaninka people and lists threats to the Amazon rainforest.
—School Library Connection

Zonia and her family are Asháninka, members of the largest Indigenous group of the Peruvian Amazon. When she notices a deforested area in her beloved rainforest, she pledges to act to protect her home.
—TODAY online