The Moonflower Vine (P.S.) (MP3 CD)
* Is the book you're looking for not currently on the shelves at our stores? Consider placing your order for shipping rather than in-store pickup; orders are currently being fulfilled FASTER via our warehouse's direct-to-home shipping option than for store pickup (and shipping is free for orders over $125)!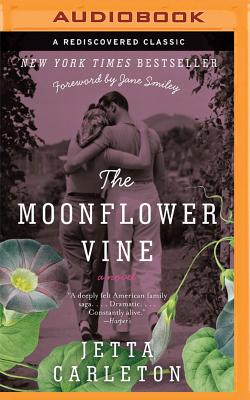 Email or call us for information about purchasing this item.
Spring/Summer '09 Reading Group List
---
"Jetta Carleton's 1962 classic, now available in a new edition, is a lovely, captivating, and surprising story about a deceivingly simple farm family with four daughters. It deals with big push-and-pull family issues like betrayal, doubt, and rebellion, on the one hand, and loyalty, faith, and forgiveness, on the other. This book has it all and says it beautifully."
— Margie Petersen White, The Bookstore, Glen Ellyn, IL
Description
---
On a farm in western Missouri during the first half of the twentieth century, Matthew and Callie Soames create a life for themselves and raise four headstrong daughters. Jessica will break their hearts. Leonie will fall in love with the wrong man. Mary Jo will escape to New York. And wild child Mathy's fate will be the family's greatest tragedy. Over the decades they will love, deceive, comfort, forgive--and, ultimately, they will come to cherish all the more fiercely the bonds of love that hold the family together.
"A rare find--a book you can truly enjoy and recall, long after reading it, with sharp pleasure." -- Rita Mae Brown
"Better than good. This is tremendous." -- St. Louis Post-Dispatch
"The flavor . . . is much the same as that of To Kill a Mockingbird. . . . The Moonflower Vine is a delightful book." -- Denver Post
"A distinguished achievement." -- Chicago Tribune