Black and British: A Forgotten History (Paperback)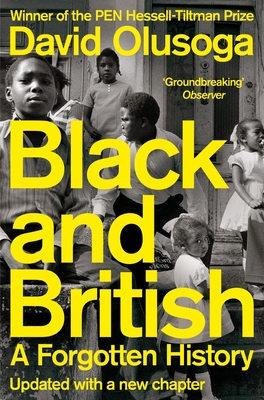 $19.95
Email orders@greenlightbookstore.com for information about this item.
Description
---
'[A] comprehensive and important history of black Britain . . . Written with a wonderful clarity of style and with great force and passion.' – Kwasi Kwarteng, Sunday Times

In this vital re-examination of a shared history, historian and broadcaster David Olusoga tells the rich and revealing story of the long relationship between the British Isles and the people of Africa and the Caribbean.

This edition, fully revised and updated, features a new chapter encompassing the Windrush scandal and the Black Lives Matter protests of 2020, events which put black British history at the center of urgent national debate. Black and British is vivid confirmation that black history can no longer be kept separate and marginalized. It is woven into the cultural and economic histories of the nation and it belongs to us all.

Drawing on new genealogical research, original records, and expert testimony, Black and British reaches back to Roman Britain, the medieval imagination, Elizabethan 'blackamoors' and the global slave-trading empire. It shows that the great industrial boom of the nineteenth century was built on American slavery, and that black Britons fought at Trafalgar and in the trenches of both World Wars. Black British history is woven into the cultural and economic histories of the nation. It is not a singular history, but one that belongs to us all.

Unflinching, confronting taboos, and revealing hitherto unknown scandals, Olusoga describes how the lives of black and white Britons have been entwined for centuries.

Winner of the 2017 PEN Hessell-Tiltman Prize.
Winner of the Longman History Today Trustees' Award.
A Waterstones History Book of the Year.
Longlisted for the Orwell Prize.
Shortlisted for the inaugural Jhalak Prize.
About the Author
---
David Olusoga is a British-Nigerian historian, author, presenter and BAFTA winning film-maker. He is Professor of Public History at the University of Manchester, the author of several books and a columnist for the Observer, The Voice and BBC History Magazine, also writing forthe Guardian and the New Statesman. Hepresents the long-running BBC history series A House Through Time and wrote and presented the multi-award winning BBC series Britain's Forgotten Slave Owners. He is a contributor to the Oxford Companion to Black British History and in 2019 was awarded an OBE for services to history and community integration. Black and British was longlisted for the Orwell Prize, shortlisted for the inaugural Jhalak Prize and won the PEN Hessell-Tiltman Prize. A children's edition, Black and British: A Short, Essential History was published in 2020.
Praise For…
---
"You could not ask for a more judicious, comprehensive and highly readable survey of a part of British history that has been so long overlooked or denied. David Olusoga, in keeping with the high standards of his earlier books, is a superb guide.' - Adam Hochschild, author, King Leopold's Ghost

"He has a real gift for telling stories straight and winning people to seeing things in a different way. It is a very rare gift." —Mary Beard

'Groundbreaking.' —Observer

'[A] comprehensive and important history of black Britain . . . Written with a wonderful clarity of style and with great force and passion. It is thoroughly researched and there are many interesting anecdotes.' - The Sunday Times

'A radical reappraisal of the parameters of history, exposing lacunae in the nation's version of its past.' - Guardian