Small Country: A Novel (Paperback)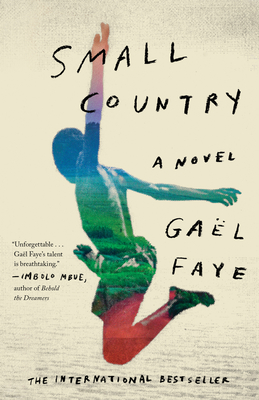 $15.00

Available In Store Now (while supplies last)
Description
---
Already an international sensation and prize-winning bestseller in France, an evocative coming-of-age story of a young boy, a lost childhood and a shattered homeland.
 
SHORTLISTED FOR THE ALBERTINE PRIZE • NAMED ONE OF THE BEST BOOKS OF THE YEAR BY ESQUIRE • LONGLISTED FOR THE ANDREW CARNEGIE MEDAL FOR EXCELLENCE IN FICTION • LONGLISTED FOR THE ASPEN WORDS LITERARY PRIZE  

Burundi, 1992. For ten-year-old Gabriel, life in his comfortable expatriate neighborhood of Bujumbura with his French father, Rwandan mother and little sister Ana, is something close to paradise.
 
These are carefree days of laughter and adventure – sneaking Supermatch cigarettes and gorging on stolen mangoes – as he and his mischievous gang of friends transform their tiny cul-de-sac into their kingdom.
 
But dark clouds are gathering over this small country, and soon their peaceful existence will shatter when Burundi, and neighboring Rwanda, are brutally hit by civil war and genocide.  

A novel of extraordinary power and beauty, Small Country describes an end of innocence as seen through the eyes of a child caught in the maelstrom of history. Shot through with shadows and light, tragedy and humor, it is a stirring tribute not only to a dark chapter in Africa's past, but also to the bright days that preceded it.
About the Author
---
Gaël Faye was born in 1982 in Burundi to a French father and Rwandan mother. In 1995, after the outbreak of the civil war and the Rwandan genocide, the family moved to France. An author, songwriter and hip-hop artist, he released his first solo album, Pili Pili sur un croissant au beurre, in 2013. Small Country is his first novel. A bestseller in France, it has been awarded numerous literary prizes, among them the Prix Goncourt des Lycéens, and is being published in thirty countries worldwide. He lives in Paris.
Praise For…
---
*Longlisted for the Andrew Carnegie Medal for Excellence in Fiction*
*TIME Magazine Best Summer Books 2018*

"Unforgettable… Gaël Faye's talent is breathtaking; no country that can give the world a writer like him should be ever be called small." – Imbolo Mbue, author of Behold the Dreamers
 
"An evocative portrait of what it means to lose one's freedom and innocence… He is a writer of great promise and grace." – Chigozie Obioma, author of The Fishermen

"Luminous... This is a book that demanded to be written, not only to mark the lives lost in Burundi and Rwanda, but also to show the way in which violence can take hold of a nation. With a light touch, Faye dramatises the terrible nostalgia of having lost not only a childhood but also a whole world to war." — Nadifa Mohamed, Guardian (UK)
 
"Personal and intimate… Gaël Faye has evoked the darkest pages of contemporary Africa without tipping into pathos." – Alain Mabanckou, author of Broken Glass

 "A masterpiece in bringing home the first-hand realities of war... heart-wrenching and beautiful and distressingly authentic. Everyone should read it." – The Pool

"A stirring and graceful tale of stolen innocence and fragmented identity. Hopeful, raw and deeply human, it is a modern classic in the making." – France Today

"Vividly translated by Ardizzone, this powerful tale, a best-seller overseas, presents a world where there are no easy demarcations of good and evil, sane and insane, or pure and corrupted, as Faye focuses not on offering judgement but rather on capturing the full impact of social and political disintegration." -- Booklist, Starred Review

"Precise and potent...deeply affecting... a heartrending portrait of the end of childhood." – Publishers Weekly

"The death of innocence seen through the eyes of Gabriel, our beguiling 11-year-old narrator, is at the heart of this gorgeous first novel… Faye eloquently speaks to the untenable choices, among love of country, family, or survival, that victims in conflict zones are forced to make." -- Library Journal

"Gaël Faye is a revelation. Small Country is a luminous and poignant novel about childhood, war, exile and identity… this is literature at its most powerful." – Le Parisien Magazine
    
"This beautiful coming-of-age novel expresses a harrowing yearning for kindness and harmony. The result is a vision of the world – not political, but poetic – that attempts a balancing act between both horror and wonder." – Le Figaro

"In the summer months, there are two categories of books: those we take on holiday and leave behind in the sand, and those that make their mark on us for life. Small Country by Gaël Faye is firmly part of the latter category" – Le Matin Dimanche

"A literary force to be reckoned with." – Le Point