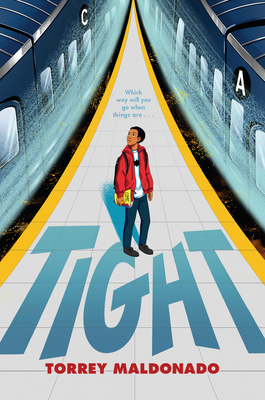 $16.99
Email orders@greenlightbookstore.com for information about this item.
Description
---
Tight: Lately, Bryan's been feeling it in all kinds of ways . . .

Bryan knows what's tight for him--reading comics, drawing superheroes, and hanging out with no drama. But drama is every day where he's from, and that gets him tight, wound up.

And now Bryan's friend Mike pressures him with ideas of fun that are crazy risky. At first, it's a rush following Mike, hopping turnstiles, subway surfing, and getting into all kinds of trouble. But Bryan never really feels right acting so wrong, and drama really isn't him. So which way will he go, especially when his dad tells him it's better to be hard and feared than liked?

But if there's one thing Bryan's gotten from his comic heroes, it's that he has power--to stand up for what he feels . . .

Torrey Maldonado delivers a fast-paced, insightful, dynamic story capturing urban community life. Readers will connect with Bryan's journey as he navigates a tough world with a heartfelt desire for a different life.
About the Author
---
Torrey Maldonado, the author of the critically acclaimed Secret Saturdays, is a teacher in Brooklyn, New York, where he was born, raised, and lives. His books reflect his students' and his experiences.
Praise For…
---
"I was riveted by Bryan's journey, breaking down stereotypes and becoming his own kind of superhero. This, in and of itself, is not only Bryan's superpower but Maldonado's as well. Loved this book!"—Jacqueline Woodson, National Book Award–winning author of Brown Girl Dreaming
 
"Tight hits all the right notes in delivering a suspenseful tale of what it means to become a man in a world split by superhero devotion and macho swagger. A thoughtful look into the pitfalls of male friendship and a riveting addition to tween lit."—G. Neri, Coretta Scott King Honor–winning author of Yummy

* "The complex emotional lives of young boys of color are portrayed through a nascent friendship. . . . Pushing of boundaries as an emotional response to trauma, vulnerability, and societal pressures is an overarching theme of the novel, pressing readers to consider the impetus of what is deemed 'bad behavior.' . . . [Maldonado] excels at depicting realistic and authentic interactions between middle school boys. An excellent addition to libraries with fans of David Barclay Moore's The Stars Beneath Our Feet, Jason Reynolds's Ghost, and character-driven realistic fiction."—School Library Journal, starred review

"Through Bryan's believable, emotionally honest first-person narration, Maldonado skillfully shows a boy trying to navigate parental desires and the societal expectations of his Brooklyn neighborhood while trying to figure himself out. Readers will be rooting for Bryan to make the right choices even as they understand the wrong ones."—Kirkus Reviews

"Maldonado's novel quietly interrogates toxic masculinity in a story that will resonate with middle-grade readers who, just like Bryan, are questioning who they are, who they want to be friends with, and how those choices will impact their lives."—Booklist

"The author shrewdly builds suspense, fueling readers' dread that Bryan's poor choices will have dire consequences. . . . This is a psychologically intricate story of the challenges and rewards of family, friendship, and discerning one's true self."—Publishers Weekly

"A book about making good choices and knowing who your real friends are, topics that are relatable to nearly everyone. . . . It is an engaging story and readers will find themselves rooting for Bryan."—School Library Connection