kaddish.com: A novel (Hardcover)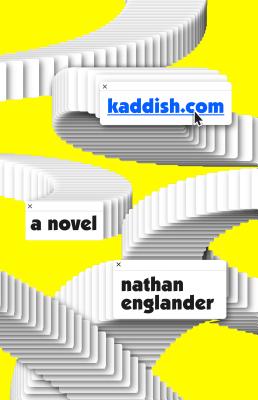 Click on "Ask A Bookseller" to contact us via email for more information about this title.
Description
---
The celebrated Pulitzer finalist and prize-winning author of Dinner at the Center of the Earth and What We Talk About When We Talk About Anne Frank delivers his best work yet, a streamlined comic masterpiece about a son's failure to say Kaddish for his father.
Larry is the secular son in a family of Orthodox Brooklyn Jews.  When his father dies, it's his responsibility to recite the Kaddish, the Jewish prayer for the dead, every day for eleven months.  To the horror and dismay of his sister, Larry refuses—imperiling the fate of his father's soul.  To appease her, Larry hatches an ingenious if cynical plan, hiring a stranger through a website called kaddish.com to recite the prayer and shepherd his father's soul safely to rest.
Sharp, irreverent, hilarious, and wholly irresistible, Englander's tale of a son who makes a diabolical compromise ingeniously captures the tensions between tradition and modernity—a book to be devoured in a single sitting whose pleasures and provocations will be savored long after.
About the Author
---
Nathan Englander is the author of the story collections For the Relief of Unbearable Urges, an international best seller, and What We Talk About When We Talk About Anne Frank, and the novels The Ministry of Special Cases and Dinner at the Center of the Earth.  His books have been translated into twenty-two languages, and he is the recipient of a Guggenheim Fellowship, a PEN/Malamud Award, the Frank O'Connor Award, the Sue Kaufman Prize from the American Academy of Arts & Letters and was a Finalist for the Pulitzer Prize in 2013. His play The Twenty-Seventh Man premiered at the Public Theater in 2012. He is Distinguished Writer in Residence at New York University and lives in Brooklyn, New York, with his wife and daughter.
Praise For…
---
One of Esquire's Most Anticipated Books of 2019
A Lit Hub Most Anticipated Book of 2019
The Millions Most Anticipated for 2019
One of Vulture's Most Anticipated in 2019
A Boston Globe Most Anticipated for 2019
One of Read It Forward's Most Anticipated for 2019
One of TIME's Most Anticipated for March 2019


"Sublime...kaddish.com reads like a modern-day Hasidic tale in which religious characters are bedeviled by the challenges of upholding God's word in an all too human world... Kafka and Roth's influences are felt in Englander's work... In this tender, wry and entertaining novel, Englander nimbly juggles these possibilities, creating an endearing hero who stumbles through a world in which the holy and profane are intertwined."
—The New York Times

"The humor of kaddish.com is infused with delight... What a rare blessing to find a smart and witty novel about the unexpected ways religious commitment can fracture a life — and restore it."
—Washington Post

"A marvelous comic fable... Englander's expansive imagination is such that he can convincingly write the part of a secular Jewish hipster and a born-again Jew - and do it with the Yiddish inflections of a Borscht Belt comedian... [A] delight of a novel."
—AP

"Tantalizing.. Elegant... Englander's prose is always sprightly. He makes it easy to turn the page."
—Forward

"A delight... kaddish.com is a lighthearted, typically offbeat romp from the fertile imagination of novelist Nathan Englander."
—American Jewish World

"Englander portrays that frantic quest--one that jeopardizes Shuli's marriage, his job, even his sanity—with curiosity and deep sympathy, evoking a response that transcends the boundaries of any particular faith."
—Shelf Awareness

"Englander is mischievously hilarious, nightmarish, suspenseful, inquisitive, and deliriously tender in this concentrated tale of tradition and improvisation, faith and love."
—Booklist

"[An] excellent comic dissection of Jewish-American life...This novel reads like Chaim Potok filtered through the sensibility of Mel Brooks. Englander writes cogently about Jewish-American assimilation, and, in his practiced hands, he makes Shuli's journey, both outer and inner, a simultaneously humorous and deeply moving one."
—Publishers Weekly

"Englander demonstrates his skill at placing timeless concerns of Judaism in sharply modern circumstances."
—Kirkus Reviews

Coverage from NPR