The Sasquatch Hunter's Almanac (MP3 CD)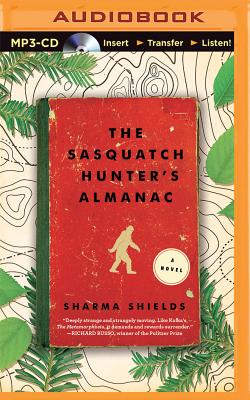 $9.99
Email orders@greenlightbookstore.com for information about this item.
Staff Reviews
---
When Eli Roebuck is 9 years old, he witnesses his mom walk off into the forest with Sasquatch. What follows is a life spent in pursuit of the truth, however Eli's hunt takes not only him but his father, two wives, children, and colleagues along for the ride. If you're worried about the upcoming family dinners and gaiety, temper that with this book. Shields does something I have rarely seen done in "literary fiction"--she takes the magical and blurs the line so finely, you may find yourself as lost as Eli as he lives a truly long, heartbreaking, and astonishing life. There are books that when they're finished, you stand back in horror or reflection (or both)--this book is one of those.
— Ikwo
Description
---
A dark, fantastical, multigenerational tale about a family whose patriarch is consumed by the hunt for the mythical, elusive Sasquatch he encountered in his youth. Eli Roebuck was nine years old when his mother walked off into the woods with "Mr. Krantz," a large, strange, hairy man who may or may not have been a Sasquatch. What Eli knows for certain is that his mother went willingly, leaving her only son behind. For the rest of his life, Eli is obsessed with the hunt for the bizarre creature his mother chose over him, and we watch it affect every relationship he has in his long life--with his father, with both of his wives, his children, grandchildren, and colleagues. We follow all of the Roebuck family members, witnessing through each of them the painful, isolating effects of Eli's maniacal hunt, and find that each Roebuck is battling a monster of his or her own, sometimes literally.
The magical world Shields has created is one of unicorns and lake monsters, ghosts and reincarnations, tricksters and hexes. At times charming, as when young Eli meets the eccentric, extraordinary Mr. Krantz, and downright horrifying at others, The Sasquatch Hunter's Almanac is boldly imaginative throughout and proves to be a devastatingly real portrait of the demons that we as human beings all face.