Diana: Case Solved: The Definitive Account That Proves What Really Happened (Front Page Detectives) (Hardcover)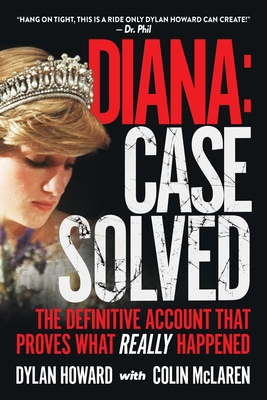 $24.99
Email orders@greenlightbookstore.com for information about this item.
Description
---
"This particular phase in my life is the most dangerous. My husband is planning 'an accident' in my car, brake failure and serious head injury in order to make the path clear for him to marry." —Letter written by Princess Diana, late 1996

It is a moment that remains frozen in history. When the Mercedes carrying Diana, Princess of Wales, spun fatally out of control in the Pont de l'Alma tunnel in Paris in August 1997, the world was shocked by what appeared to be a terrible accident.

But two decades later, the circumstances surrounding what really happened that night—and, crucially, why it happened—remain mired in suspicion, controversy, and misinformation. Until now. Dylan Howard has re-examined all of the evidence surrounding Diana's death—official documents, eyewitness testimony and Diana's own private journals—as well as amassing dozens of new interviews with investigators, witnesses, and those closest to the princess to ask one very simple question: Was the death of Princess Diana a tragedy…or treason?

Diana: Case Solved has uncovered in unprecedented detail just how much of a threat Diana became to the establishment. In these pages you will learn of the covert diaries and recordings she made, logging the Windsors' most intimate secrets and hidden scandals as a desperate kind of insurance policy. You will learn how the royals were not the only powerful enemies she made, as her ground-breaking campaigns against AIDS and landmines drew admiration from the public, but also enmity from powerful establishment figures including international arms dealers, the British and American governments, and the MI6 and the CIA.

And, in a dramatic return to the Parisian streets where she met her fate, the two questions that have plagued investigators for over twenty years will finally be answered: Why was Diana being driven in a car previously written off as a death trap? And who was really behind the wheel of the mysterious white Fiat at the scene of the crash?
About the Author
---
As a man with unprecedented access to the facts and a reporter who is one of the most feared journalists in Hollywood, investigative reporter Dylan Howard has cracked open scandals that have brought down the careers of Mel Gibson, Charlie Sheen, Hulk Hogan, and Paula Dean and others.

Howard's sense for news saw him rise to become the undisputed most powerful gossip editor in the world—publishing dozens of salacious tabloid magazines each week, including Us Weekly, The National Enquirer, Star, In Touch, Life & Style, RadarOnline.com, and more.

Described by TheNew Yorker magazine's Jeffrey Toobin as "a tabloid prodigy" and AdWeek as "the king of Hollywood scoops," Dylan also brought to light the hate-fueled audiotapes of Oscar-winning actor/director Gibson blasting former girlfriend Oksana Grigorieva; the scandal-plagued death of screen darling Farrah Fawcett; the naming of the mother of Arnold Schwarzenegger's love child; the demise of star-on-the-rise politician Anthony Weiner; and the Tiger Woods sex scandal. He also broke the story of the A-list high-stakes poker scam that was later made into the Oscar-nominated film Molly's Game.

Most recently, Howard made a name for himself with a stunning exposé of Sheen that revealed Hollywood's most unapologetic hedonist was HIV positive. It also was a story of extraordinary corruption, violence, lies, intimidation, death threats, and millions of dollars paid out in hush money—a story that he chronicled in a first-person essay for The Hollywood Reporter that AdWeek called "jaw dropping."
?
In 2011, Howard was named Entertainment Journalist of the Year at the National Entertainment Journalism Awards, where the judges labelled him the "go-to guy for authoritative showbiz news and analysis on cable and over-the air television." Howard lives in New York City.

Colin McLaren was one of Australia's best detectives; he traveled the world on high-end investigations during the 1980s and 1990s. McLaren faced down the underbelly of Australian crime and his work has been the subject of many police genre documentaries and television series. A film of his own life, based on his hugely successful first book, Infiltration: The True Story of the Man Who Cracked the Mafia, was made in 2011. Colin writes constantly and is a regular adviser to TV and cinema productions. His investigation of Diana's death has been on ongoing project and he has spent years weighing up the evidence and turning his investigator's gaze to uncovering the truth.
 
Praise For…
---
"Princess Diana's untimely death was one that brought great sadness to the world. I lived through her life, and the reporting on her tragic death leaving behind two young sons, which was absolutely heartbreaking. Reading Diana: Case Solved has been riveting. There is so much in this book that I never knew before about Diana; the woman, the mother, and the princess. Each page literally introduced me to something new that I was hearing and reading for the first time. I could not put this book down. A must read for anyone who wants to learn more about the icon Princess Diana was, and is, to so many around the world."
—Sean Hannity

"I first met Diana at Balmoral Castle, Scotland in August 1980 during my service with Her Majesty, the Queen. In 1987, I became Diana's butler and for the next ten years was considered to be her closest confidante. She famously called me her "rock" and "the only man she ever trusted." I was delighted to participate in this book as I believe that history should be told by those who witnessed it."
—Paul Burrell, Diana's former butler

"When Dylan Howard focuses his attention to investigating a case, you can be sure he will uncover sensational new information that we, as readers, viewers or listeners, will find astonishing.  Enlighten yourself with his findings about what really happened to Princess Diana on that fateful night."
—Dr. Drew Pinsky, New York Times bestselling author and TV and radio personality
PRAISE FOR DYLAN HOWARD
 
"Dylan Howard is the rare combination of cutting-edge journalist, true crime commentator, and relentless investigator. Howard passionately brings comprehensive and groundbreaking analysis to the most compelling mysteries of our time."
— Dr. Phil McGraw, host of TV's #1 daytime talk show, Dr. Phil
 
"The king of Hollywood scoops."
— AdWeek 

"Dylan Howard is one of the finest journalists writing today. His depth and breadth of experience are second to none; he follows every intricate angle of a story and exposes the truth. As a former detective, I know firsthand the skills that make an exceptional investigator and Dylan has them in spades."
—Bo Dietl, former NYPD homicide detective who made over made over 1,400 felony arrests   

"The go-to guy for authoritative showbiz news and analysis on cable and over-the air television."
— Los Angeles Press Club