God and the Pandemic, A Judaic Reflection on the Coronavirus (Paperback)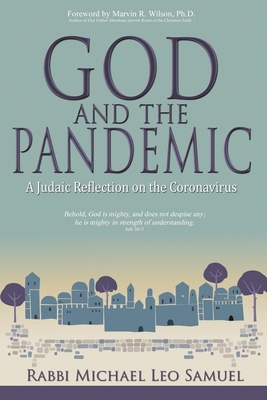 $14.95

Not In Store / Available To Order (allow for shipping time to bookstore or direct-to-home)
Description
---
Pandemics have existed from time immemorial. Seemingly few, however, have had the maturity and wisdom to navigate these destructive forces intelligently and successfully. Rabbi Samuel wisely opens his lens widely to give us a valuable historical panorama of the history of plagues and pandemics. Samuel skillfully examines and critiques various responses to pandemics. He exposes the inadequacies and fallacies of simplistic explanations. His work is deep and wide showing what ancients, medievalists and moderns have written on this troubling topic. Penned as a Judaic guide to understanding and coping with this current Covid-19 crisis, Samuel's words are also highly relevant to Christians and those of other religious traditions seeking knowledge for these difficult times.
Rabbi Samuel's work is keenly attuned to Scripture, tradition, history, psychology, social science and pastoral concerns. Seeking to make sense of a worldwide disaster is no mean task. But this sage scholar presents a richness and variety of perspectives that will inform the thinker and inspire the one in need of encouragement by putting the pandemic in temporal and eternal perspective. By exposing various myths, the rabbi's well-chosen and balanced words will provide comfort in the storm and sensible help to all people seeking to cope and to remain people of hope.
In characteristic rabbinic style, Samuel's work is filled with striking stories, vivid illustrations and practical guidance in helping to shepherd others through the complexities and challenges of this pandemic crisis. I am a fan of Rabbi Michael Leo Samuel because in this book, as in his many previous publications, he displays the unusual ability to bring theology, science, psychology, health and medical dimensions of real life struggles right down to earth. In short, he knows how to "put the cookies on a shelf" that all readers can grasp and digest. God and the Pandemic is a balanced, mature work by a veteran scholar that embraces a world and life view that will remain relevant, sensible and sane reading long after this present pandemic subsides. I highly recommend this book.
Marvin R. Wilson, Ph.D.
Professor Emeritus
Department of Biblical and Theological Studies
Gordon College
Additional titles by Rabbi Michael Leo Samuel
Maimonides' Hidden Torah Commentary
Genesis 1-21
Maimonides' Hidden Torah Commentary
Volume II - Genesis 22-50
Maimonides' Hidden Torah Commentary
Exodus 1-20
A Shepherd's Song: Psalm 23
Shepherd Metaphor in Jewish Thought
Gentle Judaic Wisdom For A Troubled World
Rediscovering Philo of Alexandria,
A First Century Torah Commentator (Vol. 1-5)
Torah from Alexandria:
Philo as a Biblical Commentator (Volume 1-3)
The Lord is My Shepherd: The Theology of the Caring God
Birth and Rebirth through Genesis:
A Timeless Theological Conversation Vol. 1: Genesis 1-3