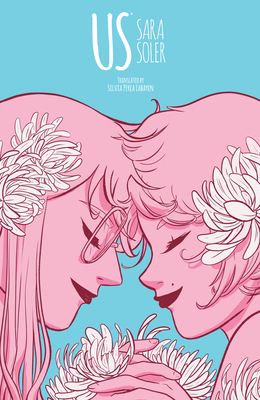 $19.99

Available In Store Now (while supplies last)
Description
---
What happens when the life you thought you had does a 180º turn? Everything, and yet…nothing.

Us is Sara and Diana's love story, as well as the story of Diana's gender transition. Full of humor, heartache, and the everyday triumphs and struggles of identity, this graphic memoir speaks to changing conceptions of the world as well as the self, at the same time revealing that some things don't really have to change.

Written, drawn, and colored by Sara Soler, with English translation by Silvia Perea Labayen and letters by Joamette Gil.
About the Author
---
Sara Soler (born 1992 in Barbastro, Spain) is an Aragonese comics artist and illustrator living in Barcelona, where she studied fine arts and graphic arts at the Escola Joso. She worked designing costumes and scenery for the film Morpheus (from Factory Productions), as an animation storyboarder, and as a showrunner for the animated movie Memoirs of a Man in Pajamas.

She began her narrative comics career in 2017 when she was awarded a Carnet Jove Connecta't al Cómic grant, which allowed her to publish her first title as sole creator, Red & Blue (Panini). Since then she's worked for a variety of Spanish and U.S. publishers, and has published En La Oscuridad (Planeta), an adaptation of the classic Robinson Crusoe (RBA), Planeta Manga vol 2 (Planeta), Dr. Horrible: Best Friends Forever, and Plants vs Zombies vol 14 (Dark Horse).

Us began as a self-published fanzine, and received a number of prizes throughout 2019 and 2020. It was published as a full-length graphic novel for the first time through Astiberri (2021). Currently Sara continues to work on various projects in both the U.S. and Spain, in addition to teaching comics classes at the Escola Joso.