Blacksad: They All Fall Down · Part One (Hardcover)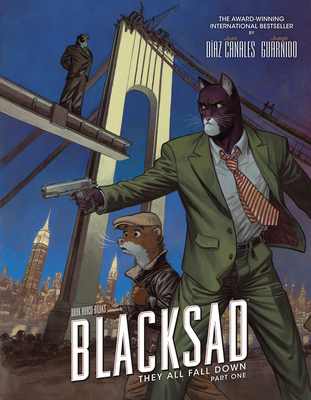 $19.99

Available In Store Now (while supplies last)
Staff Reviews
---
What if Raymond Chandler were hired by Walt Disney to write a Graphic Novel, what might it look like? It might look something like Blacksad, an anthropomorphic Film Noir styled, action packed, visually stunning masterclass in storytelling. I discovered this Graphic Novel series almost 10 years ago since then each new edition has never failed to entertain and inspire me. I hope you'll feel the same.
— Mustafa
Description
---
In this exceptional noir tour de force from writer Juan Díaz Canales and artist Juanjo Guarnido, the hotly anticipated worldwide bestseller returns to American shores after a seven-year hiatus with a brand-new two-part storyline!

Following its chart-topping 2021 release in Europe and now translated for English-language readers by the team of Brandon Kander and Diana Schutz, this volume features feline private eye John Blacksad as he tangles with the unions, the mob, and mid-century construction magnate Lewis Solomon, who plans to pave New York City's green space, come hell or high water. From soaring heights to terrifying depths, Blacksad must steer the right course between the lofty world of Shakespearean theater and the seedy nether regions of the city. Towering above it all is the foreboding figure of Solomon, who will let nothing thwart his dream of power.

With three prestigious prizes from the Angoulême International Comics Festival as well as multiple Eisner and Harvey awards, the Blacksad series of graphic albums is a global success story, now published in thirty-nine different countries. Writer Juan Díaz Canales and artist Juanjo Guarnido have crafted a master class in comics storytelling for a worldwide audience.


"A tour de force! Don't miss this!"—Neal Adams

"Grade A!"—Entertainment Weekly

"Brilliant art and an unusual display of anthropomorphic realism."—Will Eisner

"Ranks among the very best cartooning I've ever seen in comics."—iFanboy
About the Author
---
Born in Madrid in 1972, Juan Díaz Canales began his career at 18 for the Spanish animation studio Lápiz Azul, where he and Juanjo Guarnido first met. After Guarnido moved to Paris, the two traded ideas about the project that became Blacksad, a series of graphic albums written by Díaz Canales as a 1950s noir. The writer now juggles scripting for comics and animation as well as directing for television. While Blacksad was Canales's first published comics work, he has collaborated with several artists, most recently with Antonio Lapone on the Eisner-nominated Gentlemind, co-written with Díaz Canales's wife Teresa Valero.

Juanjo Guarnido was born in Granada, Spain, in 1967. After meeting Juan Díaz Canales at the Lápiz Azul animation studio, Guarnido moved to Paris in 1993 to join the Walt Disney Studios satellite in Montreuil, where he worked as an animator. While there, Guarnido began drawing his first graphic album, working long-distance with Díaz Canales toward the 2000 publication of Blacksad: Somewhere within the Shadows. The overwhelming success of the title has allowed Guarnido to take on other projects, like Sorcelleries with writer Teresa Valero and the recent best-selling Les Indes Fourbes with writer Alain Ayroles.

Praise For…
---
"A tour de force! Don't miss this!"—Neal Adams
 
"Grade A!"—Entertainment Weekly
 
"Brilliant art and an unusual display of anthropomorphic realism." —Will Eisner
 
"Ranks among the very best cartooning I've ever seen in comics." —iFanboy