Retail Buying: From Basics to Fashion - Bundle Book + Studio Access Card (Other)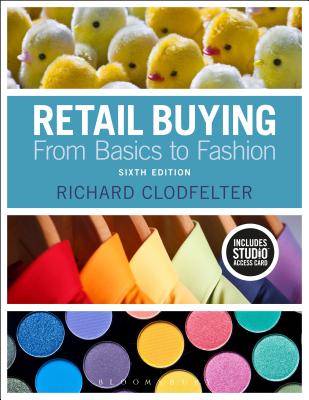 Click on "Ask A Bookseller" to contact us via email for more information about this title.
Description
---
The best retail buying book available. It combines concepts with actual calculations. This provides you with a better understanding of the topics. Katherine Annette Burnsed, University of South Carolina, USA
Learn the skills needed to become a successful buyer in any area of retail.
The book has step-by-step instructions for typical buying tasks, such as identifying and understanding potential customers, creating a six-month merchandising plan, and developing sales forecasts. It covers math concepts throughout and shows you how to analyze and interpret data with practice problems to prepare you for the profession. You'll also learn about important retailing trends, including global buying and sourcing, omni-channel retailing, online retailing, mobile technologies, and social media in case studies.
Retail Buying, 6th Edition STUDIO-Study smarter
with self-quizzes featuring scored results and personalized study tips
-Review concepts
with flashcards of essential vocabulary and basic retail math formulas
-Practice your skills
with downloadable Excel spreadsheets to complete the end of chapter Spreadsheet Skills exercises
-Enhance your knowledge
with printable worksheets featuring step-by-step solutions to common retail buying math problems
-Watch videos
related to chapter concepts This bundle includes
Retail Buying
, 6th Edition and
Retail Buying
STUDIO Access Card.
About the Author
---
Richard Clodfelter is a Distinguished Professor Emeritus in the College of Hospitality, Retail, and Sport Management at the University of South Carolina, US.