Silent Selling: Best Practices and Effective Strategies in Visual Merchandising (Paperback)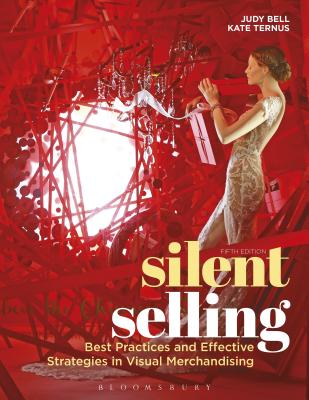 Click on "Ask A Bookseller" to contact us via email for more information about this title.
Description
---
Capturing the direction and evolution of today's retail industry, Silent Selling: Best Practices and Effective Strategies in Visual Merchandising, 5th Edition, is a blend of practical and creative problem-solving activities to carry students well beyond the basics of visual merchandising. Readers gain an understanding of experts' recent discoveries and learn valuable techniques while being encouraged to think outside the box using Bell's "Look-Compare-Innovate" model.
New to This Edition
- 30% new full color photographs showcase the best examples of award-winning global visual merchandising
- Design Gallery features discuss the design principles used in store displays, including Bergdorf Goodman (NYC), Tory Burch (LA), Dolce & Gabbana (Hong Kong) and Printemps (Paris)
- New sections on digital tools including Mockshop and CAD programs (Chapter 5), Kantar Retail Virtual Reality (Chapter 10), and WindowsWear PRO (Chapter 12)
- Updated information on LED lighting, decorative lighting and current trends in lighting (Chapter 9)
Key Features
- Creative Capstone Project inspires readers to apply concepts from each chapter to ahypothetical store design
- Retail Realities sidebars point out practical concerns that affect visual merchandiserseveryday
- Shoptalk statements by visual merchandising experts provide observations about an aspect of the field discussed in the chapter
Silent Selling STUDIO
-Study smarter with self-quizzes featuring scored results and personalized study tips
-Review concepts with flashcards of terms and definitions
Teaching Resources
- Instructor's Guide and Test Bank provides suggestions for planning the course and using the text in the classroom
- PowerPoint presentations include images from the book and provide a framework for lecture and discussion
- Learning with STUDIO Student Registration Guide and a First Day of Class PowerPoint presentation make it easy to assignthe online resources
PLEASE NOTE: Purchasing or renting this ISBN does not include access to the STUDIO resources that accompany this text. To receive free access to the STUDIO content with new copies of this book, please refer to the book + STUDIO access card bundle ISBN 9781501315565.
About the Author
---
Judy Bell is a columnist for design: retail magazine and the founder and CEO of Energetic Retail. She is the former Group Manager of Creative Merchandising Solutions for Target. She is the recipient of the Markopoulous Award and was named a Retail Design Luminary.Kate Ternus is a former marketing instructor at Century College, US, a community college where she taught for more than twenty years. Her earlier retail career included visual merchandising, sales management, and special events at Dayton's, Donaldson's, Meier & Frank, Macy's and Casual Corner, among others.